Just about everyone loves a cute canine and is drawn into watching them in dog shows highlighting their natural abilities and personalities. Whether you are attending one of the nations' largest events like the Westminster Dog Show in New York City or a small show sponsored by a local community group, dog shows offer many rewards for the competitors, their owners and the spectators alike.
Promoting Dog Shows  
Once the date and venue are set, it's time to get the word out about your show. The event may be the first time someone is entering their loveable pet and they will want to block the date on their calendar and tell their family and friends to come watch! Spectators follow their favorite breeds and will want to catch all the action to see who will earn the top prize. It's critical to make sure dates, times, and venue are publicized well in advance along with ticket availability.
Social media is a great way to promote the event. Consider working with the venue staff to cross promote on their platforms as well to build excitement!
Basically Canine 
Dog shows have a long legacy and many winners can trace their pedigree back several generations while others are out to just have fun! The type of show will depend on if it is open to canines registered with the American Kennel Club or to any dog. If the show will be on a professional scale, determine the breeds to be shown, disciplines and other factors like judging components, prize funding and staging.
In The Ring
It will depend on the venue and if space is available to stage an indoor or outdoor dog show event. If the venue has enough space to host a combination event even better!
Make sure to set up show rings with good visibility for both large and small breeds. Also, pay attention to the distance from the prep areas to show rings so handlers can block out time to have their pooch ready.
Best In Show
While the four-legged competitors will relish in the applause of the audience and a tasty treat from their handler, the dog lovers want to see the prizes! Ribbons, trophies and monetary awards are usually in the mix. Prizes for events like this are often sponsored by a collection of corporations or organizations.
Puppy Love
Dog shows are also a good place to raise awareness about local shelter animals in need of a forever home. Spectators will linger around an area to view shelter animals to learn more about adopting. Event organizers can partner with a local group to benefit from the captive audience at a dog show. And who would not want to take home a new of them home.
Our event staff here at the Roberts Centre can assist with planning a variety of canine shows. Eukanuba Hall is a versatile 80,000 square feet space that can accommodate a gamut of dog breeds, disciplines and all the gear that comes along too.
The facility offers:
Hot water dog bathing facilities
An extra-large, convenient unloading/loading dock
Agility and obedience equipment
Ring gating
Examination tables
Ample parking for vehicles and RVs
A dressed photo area with floral and backdrop
Handler/Exhibitor dressing rooms
Additional event space is available outside Eukanuba Hall. Let the Roberts Centre staff help in preparing for an upcoming dog show or other special events where animals take center stage.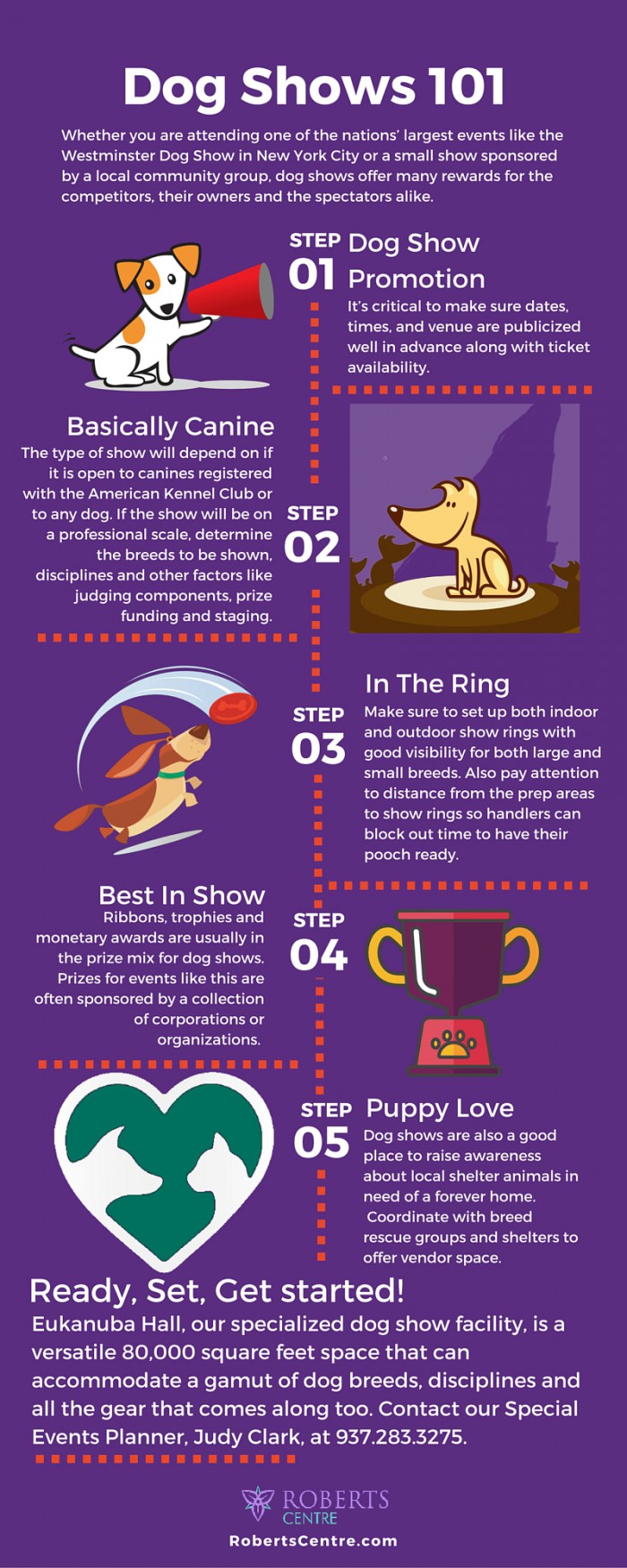 If you are getting ready to plan your next dog show, check out our Dog Shows in Wilmington, Ohio; 10 Things You Need to Know blog post to learn tips and tricks from expert planners from the Roberts Centre.

Tags: dog shows