Choosing a pet show venue can be extremely daunting, especially if you have never been a show chair. If you're planning for a cat or dog show in Wilmington Ohio, we recommend keeping these ten things in mind.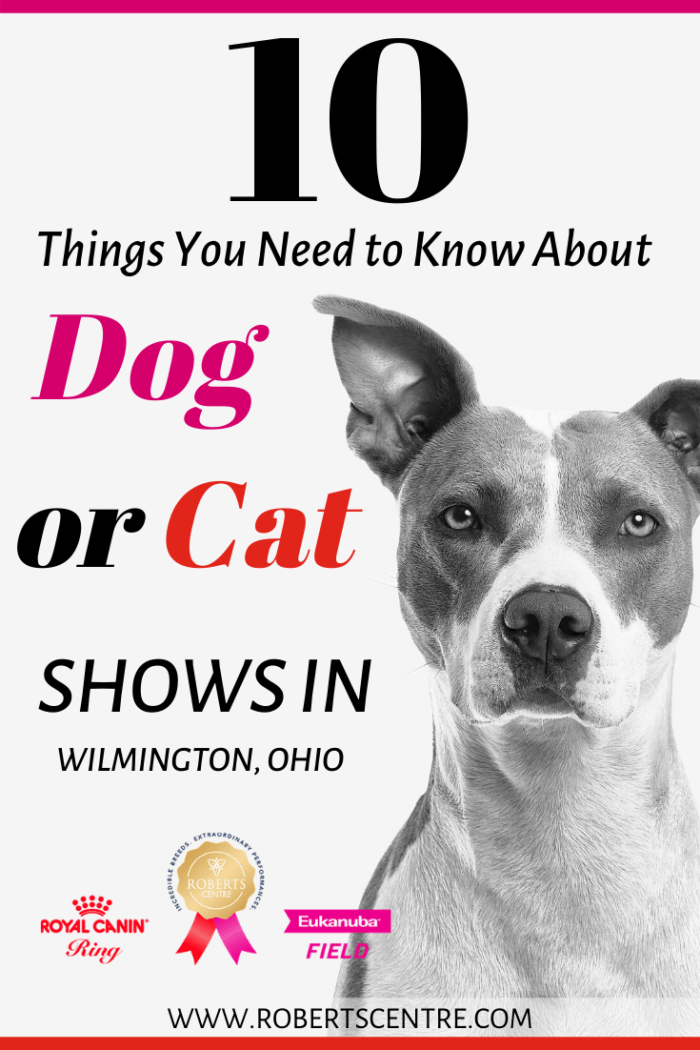 1)
Pet Show Venue Pricing
When looking at any dog show venue, affordability is a key part of the planning process. Look for a dedicated event staff that works directly with each client and meets their specific needs to keep costs down and value up. 
Hint: For more about the pricing of your specific event, call us 800.654.7036 or contact us to set up an appointment with one of our experts. 
2)
Central Location for Your Dog Show in Wilmington, Ohio
For any event, it is important for your attendees to have easy access to a bustling downtown with food, shops, and entertainment. The Roberts Center is known for its accessible location in Wilmington, Ohio between Dayton, Cincinnati, and Columbus. Roberts Centre events are located right off  Interstate 71 and State Route 68 and your event participants can get to anything they might need on a short trip.
3)
Best in Class Dog and Cat Show Amenities
If you are planning any agility, obedience, rally, or tracking courses for your event, you will want the tools necessary for your courses at the venue. Outdoor events, such as lure coursing also need to be easily set up and ready for your participants. Our on-site staff can help set up and tear down for events including conformation, agility, and obedience as well as tracking, herding, and lure coursing. Here are things you need to look for in a venue if you are planning any of these courses for your event:    
Bathing facilities with hot water

Loading/Unloading dock for any of your show needs

Obedience and Agility equipment on site 

Examination tables for judging

Ring gating 

Photo area and backdrops 

Space for storage, office equipment, and on-site sound system

Meeting spaces for judges or club gatherings 

Electricity that is easily accessible for grooming needs in convenient locations

Ring signage 

Adjustable carpet for events ranging from 40×40 to 80×100 ft. 
4)
Expert Dog Show Staff
Look for an event staff with vast experience, one that knows how to organize and host dog and cat shows specifically. Also, ask them how many shows they've hosted and organized. Even the smallest dog show needs a flexible staff that can handle any event need or want. They also need to be able to anticipate and allow for issues you might not think of! 
5)
Professional Event Marketing
Will the venue promote your event for you or does that responsibility fall on you? Look for a venue that includes marketing promotions such as print and social media marketing as part of the package.
Note: In addition to inclusion on the Roberts Centre marketing promotions, we maintain a separate social media presence for the Eukanuba Field and Royal Canin Ring with the goal of providing promotional support around dog and cat show events tied to the Roberts Centre. Your event will be promoted on these channels at no cost. Want to see more? Follow Eukanuba Field at @EukanubaField and Royal Canin Ring at @RoyalCaninRing. 
6)
Flexible Pet Show Venue Space for a Cat or Dog Show in Wilmington, Ohio
Look for a venue large enough to accommodate the multiple competition events that may be happening at once. Remember that you'll need both indoor show rings with good visibility for both large and small breeds of dogs and outdoor space to host canine agility courses such as jumps, tunnels, weave poles, and ramps. Outdoor courses can also accommodate rally, tracking, herding, and lure competitions. Additionally, you'll also want a venue that offers prep areas close to the show rings so handlers can have their pups show ready.
Eukanuba Field and Royal Canin Ring create a space that can be used in multiple ways. With both outdoor and indoor space, any dog or cat show can be accommodated and any services you might need for your pet show can be achieved. Combining the indoor and outdoor space, there are over 80,000 square feet of flexible space for your event. Click here to learn more about Eukanuba Field. 
7)
On-Site Parking & RV Accommodations
If you're used to providing your own accommodations, look for a venue that can support your camper or RV, and one that offers adequate parking. Preferably one that's designed for this purpose!
Hint: If you are interested in staying in your RV, we have a great location right beside the Royal Canin Ring.  We have designated parking lots for your event site that will make it easy for your participants and spectators to get to your event.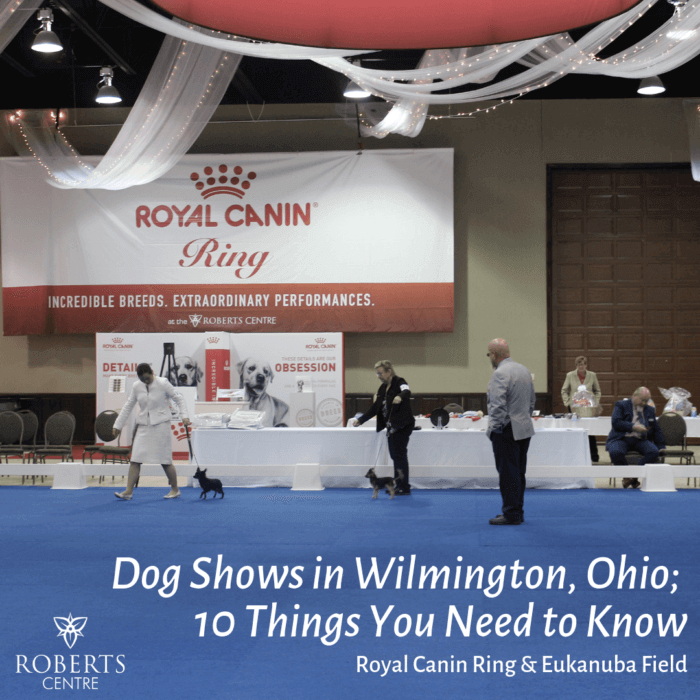 8)
Food Service on Site
If you're making use of a hotel, you'll want food service nearby or preferably on-site, so you don't have to spend hours each day setting up and providing meals. Look for a venue with a conveniently located restaurant that serves three meals per day. Better yet, look for one that delivers!
Hint: Max & Erma's, our on-site restaurant, can deliver delicious food to you and your participants during and after the event. With breakfast, lunch, and dinner options, Max & Erma's have everything your participants might need. Our on-site chef and catering team can make your event a culinary success that will have all your human guests drooling! We also offer concession capabilities during your event for smooth transitions to the next scheduled event or meal.
9)
Convenient and Pet-Friendly Hotel Accommodations
If you do choose to stay at a hotel, naturally, you'll need to make sure that your hotel is pet-friendly and used to accommodating multiple animals at once. Throughout the event, participants will want to rest in their rooms while still being able to access anything they might need with comfort and class. Look for a venue that can support these needs.
Hint: Our Holiday Inn is a pet-friendly hotel directly attached to the show facility. Bonus! Our heated indoor pool and fitness center also add to your participants' stay and make their pet show experience a fantastic one! Check out all our hotel amenities.
10) Positive Reviews
Before booking any dog or cat show, you'll want to check out the reviews of the facility. Check Google, Yelp, and Social Media reviews to see what people are saying in general about the venue. It's natural to see a few negative reviews as there are always going to be complainers, but if you see a trend of poor service, don't be afraid to ask them directly about it!
Here is a dog show testimonial about our wonderful event staff!
You are the key to the success of our Show! All of the good things except the dogs were provided by you! Or they were facilitated by you! I can't possibly thank you enough. Everyone raved about the event, the facility, and every detail. Your kindness and positive spirit were mirrored in your staff. Once the dust settles in my brain we can add the small things I forgot to next year's BEO and be ready for next year. This time I promise to get the numbers for the block of rooms' right! Your appreciative, Altha Graham, Show Chair W.F.T.C.C.S.
Plan your Cat or Dog Show in Wilmington, Ohio

Over the years, the Roberts Centre's "best in class" Royal Canin Ring and Eukanuba Field in Wilmington, Ohio has earned us the reputation of being a "TOP DOG" venue in the United States for dog and cat shows. Outdoor sporting events like scent work, dock diving, and obedience work can be held in our Eukanuba Field. Any indoor show or agility competition can be held inside in the spacious Royal Canin Ring. Our attached, pet-friendly hotel also has a delicious restaurant which makes this the perfect location for top show dogs or cats all over the county and a great place to relax for their human parents. 

If you want to schedule a dog or cat show, give us a call today at 800.654.7036 or contact us using our website. Our professional pet show planners will help you every step of the way!

Tags: dog show venue, dog shows, Eukanuba Field, Royal Canin Ring