Conference Center for ANY Ohio Event
Roberts Conference Centre in Southwest Ohio offers an incredible variety of banquet and meeting space for any type of event. From large, sweeping exhibition space to an intimate ballroom or executive boardroom, our convention center has flexible space to fit your specific needs. Whether it's a board retreat, strategy meeting, or workshop session, no one does better small- to mid-size meetings than Roberts Conference Centre.
Services and Amenities
Complimentary high-speed Internet access.
A professional audio visual team will be by your side to assist with all types of equipment from projection screens to dry erase boards.
Catering services are available to keep your guests' appetites completely satisfied.
Overnight accommodations are made easy with the Holiday Inn hotel on site, allowing for a convenient transition between meeting time and leisure time.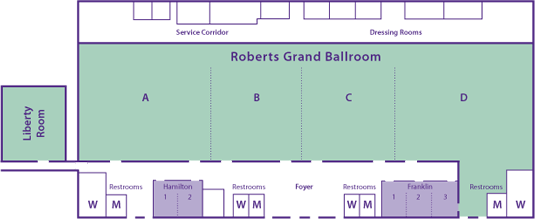 Download a PDF of the dimensions
If you'd like a proposal for your next event, submit a Request for Proposal here.
Our Latest Meeting Space Posts
Music Event Planning Guide
Regardless of genre, era, or culture, music has a unique way of unifying and connecting people. Watching live musicians perform touches the soul and fires the imagination in ways that pre-recorded music can not. Planning a memorable music event, whether... Read More