Here you are, newly engaged and thinking about how much the average wedding costs instead of thinking about what your dream wedding looks like! Everyone knows that planning your wedding and sticking to a budget can be a difficult task! There are so many fine details that go into one day and you want to make sure everything is just right! Sometimes, determining and sticking to your wedding budget can get out of hand, and the budget you thought you had planned can go down the drain. After interviewing brides and wedding specialists and hearing their average wedding cost breakdown, here are some great tips and small wedding ideas they have used to stay true to their wedding budget and in some cases, coming in under their final wedding budget!
Wedding Budget Tip: Know Your Wedding Package Prices and Information
Using a wedding package is one of the best ways to save on your wedding budget while getting everything you want in your ceremony and reception. Many venues have multiple packages from which to choose that can accommodate any size wedding. Using a wedding package also gives the brides and grooms some wiggle room in the final cost of a wedding because packages include ceremony location rental, welcome receptions with food and drink, and even guest room block options. Packages oftentimes tend to include or discount items that the couple might forget like the placement of favors, place cards, centerpiece decorations, cake cutting, champagne toasts, and linens.
Wedding Specialist Insight: Some packages even include a signature drink instead of a full-service bar which could save hundreds of dollars!
Wedding package prices might look like a lot upfront, but they incorporate the cost of multiple wedding event needs! If you are budgeting for your wedding, going with a package is a MUST when adding up the wedding budget. Check out our elegant and affordable wedding packages here.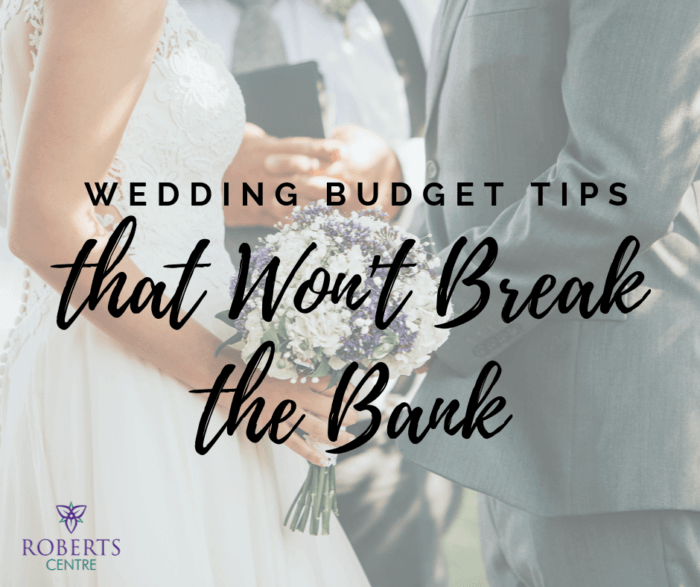 Social Networking to the Wedding Budget Rescue
Social media is a great way to network with other brides and grooms who have tied the knot and see how they saved a few dollars on their wedding day. Have you thought about sending save the dates out on social media? How about creating your RSVPs online for your guest list so you don't have to spend money from your wedding budget on stamps?! There are many online tools that you can use to save on creative costs! Canva is a great tool for creating posters, invitations, and wedding favors! You can also create a profile on The Knot that will allow you to do registry, invites, save the dates, seating charts, and other wedding information FOR FREE!
Wedding Specialist Insight: Create your guest list seating chart online and have it printed instead of going somewhere to buy it!
Jump onto your favorite social platform and check out all the groups created for reselling wedding decorations for cheaper alternatives or to just get some inspiration for your DIY wedding day decorations!
DIY Wedding Decorations and Invitations
What makes a wedding special? Special touches from the couple that really speak to who they are and their love for each other. On average, couples spend at least $2,000 on decorations for their wedding celebration. By creating your own invitations or decorations you can save money and make the event more focused on you! You could save up to half the cost of ordering your invitations from a professional printing company. Do it yourself projects don't stop at invitations!
Bride Insight: Consider thrift shops and upcycling items like plates, lamps, and candle holders into beautiful centerpieces or cupcake displays. You can make amazing decorations with some of the simplest things you can find in dollar stores around your area. Have family members and friends go to their dollar stores and purchase them there too!! It's fun to see who can get the best deal on those lamps you wanted from the dollar store! 
If you have the time, DIY wedding projects can really help when planning a wedding budget. Even making food for your rehearsal dinner the night before the wedding can save you quite a lot! Think about having a spaghetti bar or taco bar for all your wedding party to enjoy! Really, the DIY opportunities are limitless, but as the day approaches, time goes by VERY quickly! Prepare a timeline of when you need your DIY decorations, invitations, or foods to be ready so that the date doesn't sneak up on you!
We have an entire Wedding Blog on DIY Decorations that could save you quite a bit when planning your wedding budget. Get your wedding decorations Pinterest ready by checking out all of our amazing DIY ideas!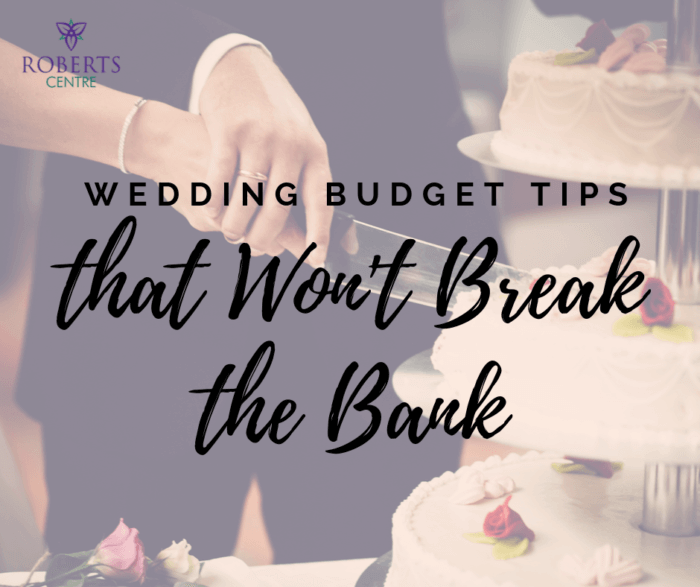 Tips for Choosing the Perfect Wedding Vendors
Wedding budgets should include room for various professional wedding vendors that can play a key part in making your big day a huge success. Who is making the cake or cupcakes? Who is going to be the best D.J. or florist? It all comes down to the best quality for the lowest cost, but you have to think about some important things before you choose the right vendor for you.
Brainstorm
Brainstorm with your partner about who you know! Does your uncle's friend D.J. weddings or events? Who do you know that can do hair and make-up like a pro?  Have you had some delicious cakes from a family member? These people could really help you save when planning your wedding budget by not charging you industry prices.
Wedding Specialist Insight: Try to stay away from using family as you want them to be a part of your big day. Think about who you know that is in school for the items you are looking for, and offer them experience at a lower cost.  
Look Around You
Think about where your venue is and the stores or vendors around it. You could get your cakes from a nearby supercenter or buy baby's breath in bulk from a grocery florist where the dollar amount will be less than a floral business.
Timing is Everything
Think about renting your venue on a weekday rather than a weekend and aiming for the wedding off-season (January, February, and March). These colder months are normally not as popular with only 5 percent of weddings booked in winter months.
Steer Clear of This Word
When calling potential vendors, try not mentioning that the event is a wedding. Many vendors instantly put a wedding charge on top of the average cost of the service on the bill. Let them know how many people will be in attendance for your event and what exactly you need from them. Steer clear of the word wedding as those added costs are NOT something you want.
Is There a Specialist in the House?
When choosing your wedding venue, make sure they have wedding specialists on staff that can help you put together your dream wedding. We've read that couples spend less money when they plan a destination wedding, however, once airfare, food, and lodging are incorporated into the cost, many couples spend the same amount as the average wedding. Save the destination for your honeymoon and find a local venue that is accessible for all of your family and friends that is close to a multitude of vendors.
Bride Insight: I loved having a wedding specialist at our venue. She already knew most of my vendors which made communication between the venue and the vendors really easy. She also knew how to decorate the space within my budget while still making it look amazing!! Plus, I trusted her to put the final touches together at the ceremony and reception while I was getting ready. I couldn't be in two places at once, but she coordinated everything and I couldn't be more thankful!
Your venue's wedding specialist probably has a list of vendors who have been great to work with and have reasonable prices. Who doesn't want to work with a vendor who ALREADY has a great track record at creating flawless works of art? Ask your wedding specialist for a list of who they would recommend or their ideas to save you a few bucks on your wedding budget! Here is a great breakdown of all the vendors you should consider for your big day to share with your wedding specialist!
Must-Have Wedding Vendor List
Photographer
Wedding Planner
Hair and Makeup
Wedding Attire
Wedding Cake Baker
Florist
Music: DJ or Live Music for the ceremony
Videographer
Caterer- Often times included by the venue
Officiant
Wedding Jeweler- for the engagement ring and wedding ring selection
Favors Vendor
Car Rentals or Transportation Company
Lighting at the Event
Hotel Room Contact
Rehearsal Dinner location- catered or at a location- Ask about discounts that the wedding venue might offer if you do a rehearsal dinner in the same location.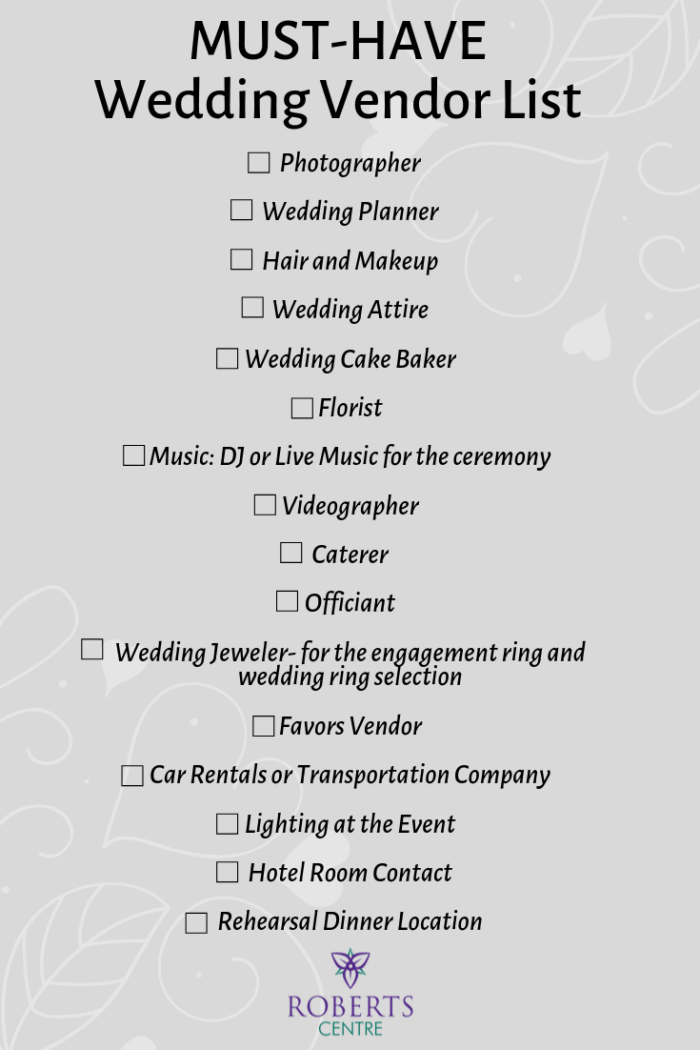 Spend Less on Wedding Party Attire
If you are trying to save money on your wedding budget, start thinking about wedding attire for your party! Have you seen some of the price tags on wedding dresses?! Think about going to a bridal consignment store to save literally hundreds on the perfect bridal gown. These dresses have been worn before, but don't let that stop you from getting the wedding dress of your dreams with discounted prices. Attire for your wedding can cost a pretty penny, but there are other alternatives to what you might wear.
Bride Insight: You can swap tuxedos for suits or vests or even as casual as jeans and a fancy button down for a rustic fall themed wedding!
Think about your wedding theme and match the clothing to the atmosphere! Dual-purpose gifts that you can buy in bulk are really great for bridal parties as well. Ties, jewelry, socks, and shoes are great gifts to get your wedding party so they all match on the big day and can be purchased online and shipped in pre-wrapped packages. Can we get a heck yes?!
Skip all the bells and whistles and SAVE Your Wedding Budget
When it comes down to it, your wedding is YOUR wedding. If you want to have one or two people come to your ceremony and have an intimate wedding, do it! Choosing to have a small wedding can really impact your budget because you won't have to spend as much on the ceremony. Then, plan on having a reception at a local event venue so you can spend time with family and friends.
You and your partner also have to think about your honeymoon!! Instead of planning the destination honeymoon right after the wedding, think about planning your honeymoon for 6 to 8 months after the wedding. You can save up more to spend on your getaway and not feel as rushed right after the reception. Also, think about putting the honeymoon or items you might need for your getaway on your registry.
Bride Insight: Many online registries offer plane tickets on their site that many people can put money on and buy together. It's a save for you and a solid wedding gift was given from them.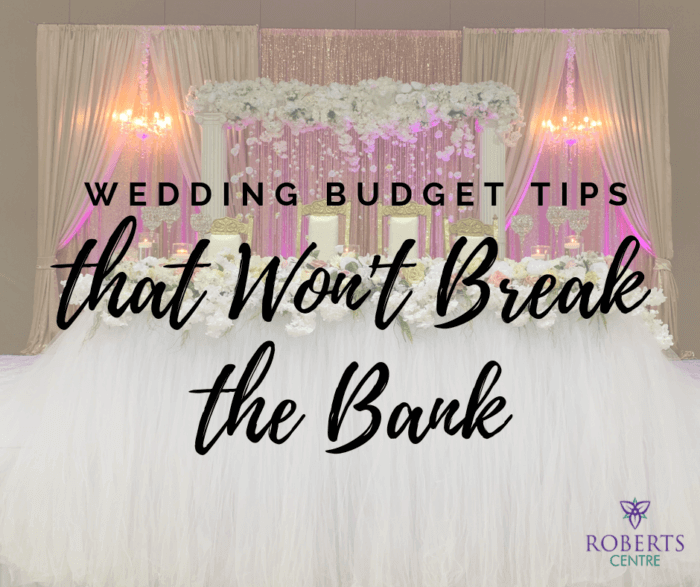 Let's SUM it all up
You are going to be incredibly busy planning your wedding!  It's important to have your event at a place that can provide you with amazing packages, ideas, and connections. Use these tips and tricks from real brides and wedding specialists from real weddings to plan a successful event! The Roberts Centre has wedding specialists that can provide tips for planning your dream wedding within your budget. They can help you choose from several wedding packages and local vendors, so you don't have to break the bank! Plus, The Roberts Centre is located in a PRIME central location between Cincinnati, Columbus, and Dayton. Call 937-283-3277 today and schedule a tour of The Roberts Centre today or request a proposal to start planning your event!

Tags: Wedding Budget, wedding details, wedding inspiration, wedding planning, wedding planning tips, wedding tips, weddings