Whether you're looking for a way to cut costs or simply want to put your Pinterest-perfection style into all of your wedding décor choices, DIY'ing your wedding decorations is still running hot for celebrations in 2018. If you're in the planning stages still and searching for inspiration on where to start, read ahead. We've got the best ideas for wedding decorations on a budget.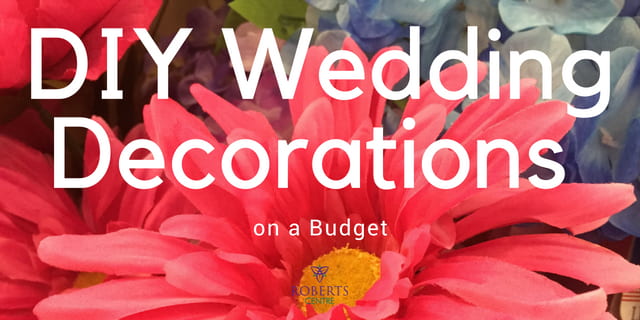 Make Inexpensive Flowers Look Expensive
Every bride-to-be knows that flowers can be a huge budget-breaker. Throw your money towards your main floral must-have's such as bridal and bridesmaid bouquets and supplement your wedding decorations with dollar store finds.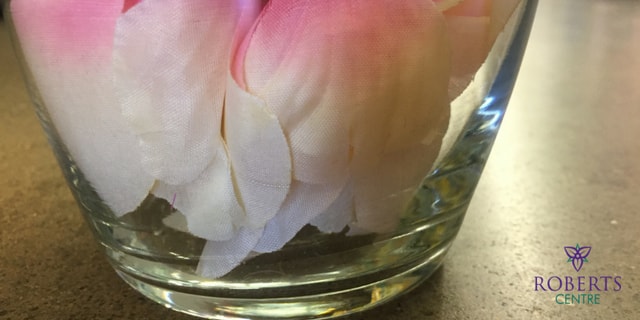 When dealing with inexpensive stems, always mix colors and textures to get the most bouquet bang for your buck. A varied blend can camouflage inexpensive greens and blossoms. Speaking of greens, often time the big difference with lower-end faux flora is what's holding the blossoms up. Choose vases that hide the stems or try a florist trick of wrapping greenery around the inside of the vase until supports are hidden completely. Or, toss out stems completely and let blossoms float in a wide vase filled with water; just don't combine faux flowers with floating candles. Another fun trick is to cluster multiple big blossoms in a vase and tuck in a battery-operated tea light or fairy lights for a whimsical glow.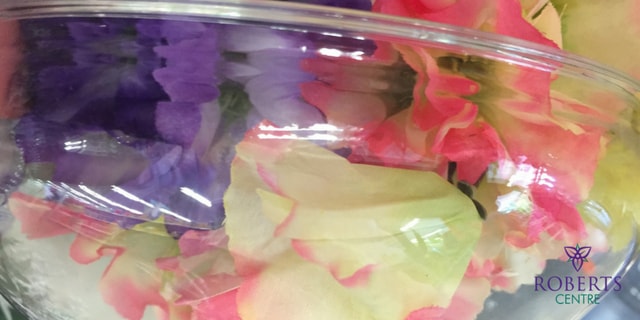 Want to really "wow" your guests? Have them look at your chosen flora from a different angle. Hang single stems or blossoms upside down. Lovely high ceilings like those in the Roberts Centre event venue can be contrasted by an entry awning with inverted petals and blossoms hanging above.
Picture Your Décor Done
Thrift or dollar store picture frames go a long way with a simple coat of paint. Classy and elegant affairs are perfect with metallic spray painted frames whereas a more rustic or simple celebration can make heavy use of matte color. Cluster your frame finds in the center of the table in lieu of a more traditional centerpiece (you can always pop silk petals or blossoms around as well), or strategically place one or two on each table.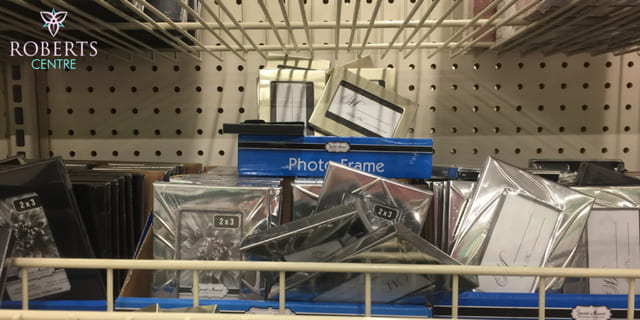 Fill your frames with engagement photos, family, pets or vacation pictures. Unlike your other boxes of wedding décor post-celebration, you may not need to find homes for these accents. From wedding day to wedding bliss, these décor pieces transition nicely into your newlywed nest. Be sure to keep the ones you love close by, though. One of our brides was charmed (and happily surprised) to find family and friends swiping the framed pictures at the end of the night as wedding favors!
Want to really up the drama? Bring out the power tools and mount a large painted branch or several smaller and hot glue ribbons to each frame for hanging. Your photo "trees" will be a stunning, and very inexpensive, way to bring more family and memories into your big day.
Table Top Wedding Decorations on the Cheap
Dollar stores often stock design elements such as stones or glass gems perfect for scattering in table centers. Want to cluster cake stands for small desserts and sweets but can't stand the standard price? An inexpensive glass plate super glued to a glass is the perfect way to create exquisite and inexpensive stand.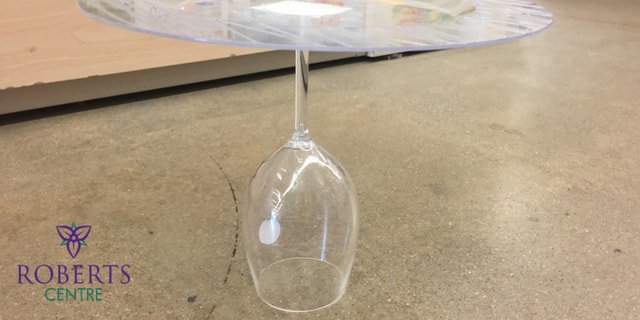 Have to have napkin rings but the size of your guest list is flashing "NO" in neon? Slice cardboard tubing (yes, the inside of toilet paper rolls) in 1 inch sections and cover with dollar store finds such as fabric, decorative paper, ribbon, or gems.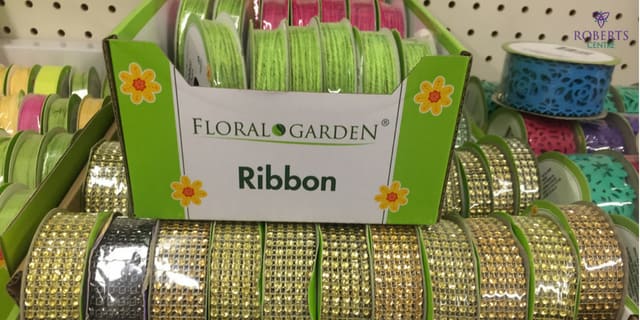 Inexpensive Photo Backdrop Bonanza
Is your photographer planning a plain sheet photo backdrop or (horrors!) a wall? Not with your dollar store finds, they won't. Although balloon archways are 90's throwbacks, a backdrop filled with balloons is quite chic, indeed. Designate a few friends or family members to gently stick inflated balloons with double-sided tape to a heavy plastic table cloth hung from an inexpensive frame.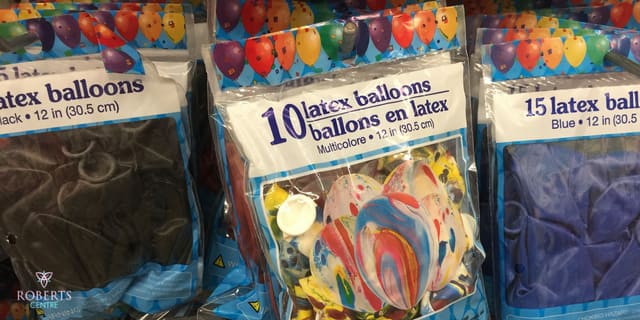 If you have a fear of your backdrop bursting, however, there's plenty of other ways to add backdrop interest inexpensively. Stack tissue paper balls in a large collage to get the same effect for a minimum increase in cost. You can also drape streamers for a more bohemian look. Just remember more is more in this case; you'll want to use enough to give your backdrop a lot of depth and texture.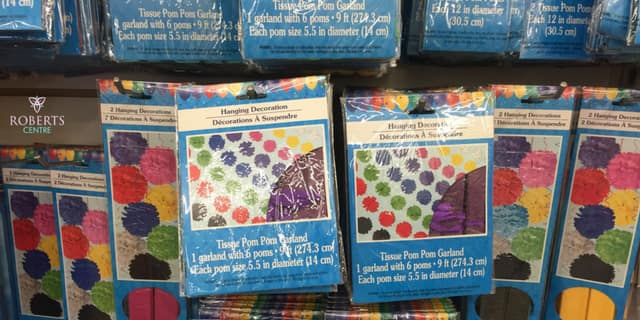 Unique Dollar Store Favors
Yes, dollar stores have candy galore but you aren't limited to tiny tulle sacks of sweets. Gift your guests for summertime celebrations with $1 sunglasses tagged with, "Our love is so bright you definitely need shades! Adam and Andy's Wedding 7/7/18!" Dollar stores will often have fun little boxes for favors, but why not fill them with something unexpected? Bubble gum balls are fun filler, especially tagged with, "He popped the question now it's time to pop the Champaign! Jordan and Sam 2018" Want to really let guests know how sweet they are? Buy them some full size candy bars and print out your own custom labels.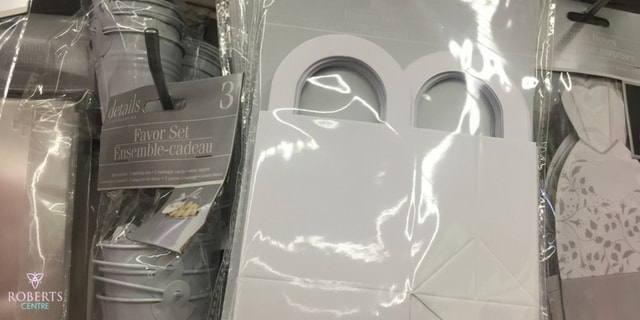 We hope this helps you get a jump on your wedding décor while keeping your budget under control. While it's definitely fun to DIY, busy or budget-conscious brides should always start by asking what items their venue stocks to use for free or a small fee. Roberts Centre has many items on-hand ready for customizing and creating a celebration as unique as your love. Curious? Contact our wedding specialist today at 937-283-3272.

Tags: wedding details, wedding favors, wedding inspiration, wedding planning, wedding planning tips