Are you ready to plan the 2017 wedding of your dreams? We have the inside scoop on the 2017 wedding color trends you should be thinking about with your wedding planner this year.
A Monochromatic Winter Wedding
The sky may be gloomy and ominous this winter depending on the weather forecast but your 2017 winter wedding doesn't have to be. A silver and white combo color palette can turn your winter wedding into a glamorous affair.
Different shades of silver and white bring an air of elegance to your winter wedding. Brides that prefer something more than white can also add a bit of shimmer to their gowns when they choose a monochromatic color scheme. Men need silver accessories to blend in with the monochromatic theme and they will jump at the chance with a silver watch, a silver bracelet and some cufflinks that stand out. Read more on how to pull off a monochromatic wedding color scheme.
Get Your Pink on this Spring
Are you planning a spring wedding? The season of rebirth calls for a flair of color. Pink fills that bill and is this year's 2017 spring color. Celebrate Mother Nature's spring beauty with palettes that can include lacy blush pink, soft pink and champagne.
Wow the wedding party with a pink wedding dress or pink flowers on your wedding cake. Get the groomsmen involved by offering them cool sunglasses in eccentric pink colors.
Get Crazy With Yellow and Blue This Summer
The combination of two primary colors, yellow and blue, are the hot summer wedding colors in 2017. Yellow is a happy and bright color that will brighten your special day and blue is just the color to make the color pattern pop.
Use yellow as an accent color or for your bouquet. Also consider a bright yellow wedding cake for your wedding reception. Bridesmaids will love the colorful choices and groomsmen can get in on the yellow action with bright yellow ties and blue lapels.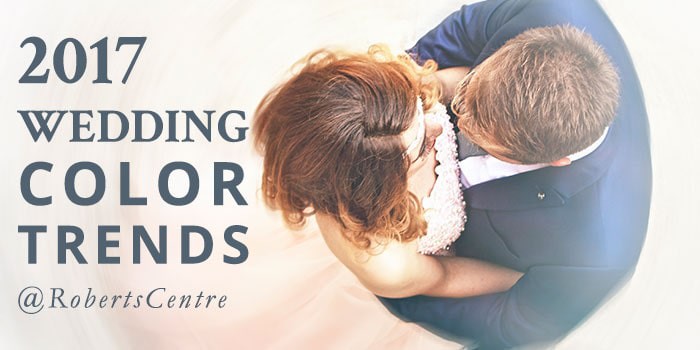 Fall Into a Rustic-Themed Wedding With Sage and Amber
For a fall wedding in 2017, try a rustic-themed extravaganza full of bright and earthy autumn colors like sage, amber and green with hues of bright orange for the wedding gown and flower bouquet. These colors work great with an earthy theme that uses wood like arches crafted in branches. Try a bright gold leaf headband for the bride and a leather and wood watch for the groom to complement your rustic sage and amber theme.
2017 Wedding Color Trends
Looking for some other 2017 wedding color trends that better suit your style? There are plenty of color palette options out there and surely there is one that matches perfectly with your tastes and needs. Try these other 2017 wedding color trends this year too before you make a final decision:
Mauve and gray neutral
Lavender, pink and green
Cranberry orange and off white
Red and dark gray
Navy coral and gold
White and green
Gold and green
Gold burgundy and green
Aqua, cream and blush
Coral, teal and peach
French blue, blush and gold

Plan Your Wedding
If you are picking out your 2017 wedding colors, you are ready to plan your perfect wedding. Give The Roberts Centre's professional wedding event planning staff a call to plan your wedding package and help you with all of your wedding color details. Strategically located near Dayton, Cincinnati and Columbus in Ohio, we also offer an on-site Holiday Inn and an on-site restaurant and bar. Contact the Roberts Centre today at (937) 283-3272 to schedule an appointment to discuss your wedding plans today.

Tags: 2017 wedding color trends, Roberts Centre, wedding colors, wedding tips