No doubt about it, music can make or break a wedding celebration. Having the right music at your big event is essential to setting the mood and ensuring your guests have fun. How do you know whether to hire a band or DJ? You must first consider what type of entertainment suits your personal taste, budget, space allowance and guest demographics. For those weighing the pros and cons of a band or a DJ, here are several important considerations:
Band Pros
A live band will likely have a more dramatic presentation with musicians, vocalists and instruments. There is nothing like live music, which can energize the crowd

,

and get everyone excited for an evening of dancing.
 A live band will almost always have an infectious stage presence and an energy which will get people on the dance floor! Also, Guests who do not like to dance will still enjoy watching the show.
Band Cons
Most bands have only one volume: loud. If you are planning to have a quiet, intimate reception, the presence of a band might overpower the ambiance.
Most bands have a signature sound which will make it difficult to switch genres or styles. You might find yourself with one that is too classical

,

or too jazzy. If you have a favorite song list, their renditions may not strike the right cords with you.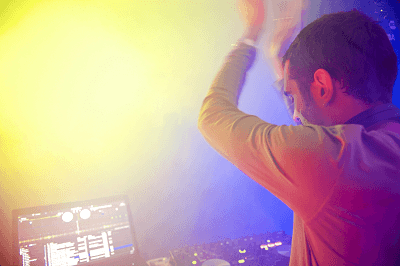 DJ Pros
 A DJ's limitless library of music by the original artists is something to consider. The first dance to the song you both fell in love is a special moment and a cover of that song will likely pale in comparison.  Also, musical variety allows the DJ to create a tailored play list which will keep all of your guests happy!
Professional DJ's, who have a solid reputation in the wedding circuit, are well versed in serving as both the DJ and MC. This individual will essentially be a spokesperson for the wedding and will have a presence throughout the entire reception. You and your guests will look to your DJ for guidance, direction and closure during a day packed with formalities.
DJ Cons
Beware of the bored DJ or the one on autopilot. While they should have their routine down pat, you will want that routine to also be personalized for your day, rather than a generic template of every client past.
Affordability: Band vs. DJ
At a cost that can be several thousand dollars for a DJ or a band, you will want to know with confidence you have made the most appropriate choice for your wedding. For many, the cost of hiring a band is unrealistic because in the price war, DJ's generally cost significantly less.

Know that all professionals, whether that be a DJ or a band, should be open to your personal preferences and be willing to accommodate your vision.  Ideally, you will want to see a DJ or band actually performto know if they are right for you, before you commit. It is important to gauge firsthand if their style is appropriate for big day. It is not an unusual request to see a taped performance or attend a dress rehearsal, but you should never crash another couple's reception. Also, ask for referrals

How is your wedding reception plan coming along? Or as former bride, do you have any advice on entertainment for the reception? Share your wedding reception music experiences with us on Twitter and Facebook .

Tags: Band, Celebration, DJ, Entertainment, Roberts Centre Wedding, wedding planning, wedding planning checklist, wedding reception, wedding tips, weddings