Winter is a time when the landscapes color dissipates under a pale white stillness, creating the perfect environment for a crisp, romantic wedding. This winter it's all about traditional elements mixed with romantic and unexpected color palettes, lush floral arrangements and interactive warm cocktails. Take a look at this years winter wedding trends!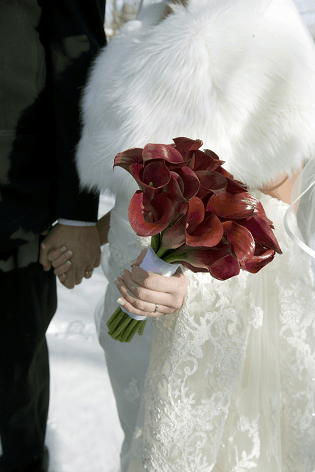 Winter Wedding Color Trends: Hints of Red, Purple and Orange
Red and white palettes have long been a staple in winter wedding color palettes, but this season consider the color spectrum of reds for your winter nuptials. Combining earthy neutrals and greenery make these colors pop with vivid and high contrast when mixed with seasonal details.
Winter Wedding Flowers
Think texture and color! Winter wedding flower arrangements featuring seasonal elements like lilies, red and orange roses and green hydrangeas with holly and evergreen boughs add a festive touch to your wintry celebration.
Winter Wedding Food Trends: Mini-Entrees and Interactive Drinks
As temperatures drop, it's the ideal season to serve heartier comfort foods which we typically avoid in the summer months. To prevent weighing your guests down, ensure they will be on the dance floor with you all night by serving mini-portions of your favorite winter eats. Don't forget the seasonal bar drinks such as peppermint hot chocolate with candy stirrers and spiced rum cider with fresh apple slices.
Winter Wedding Cake Trends
While wedding cake styles continue to change, the classic trends are making a serious comeback. If you desire a more traditional multi tiered cake, consider Buttercream frosting embellished with your lush winter color pallet and toasted coconut. This will pair fabulously with your winter bar drinks.  The metallic wedding cake was huge last winter and appears to once again be in demand. This year we are seeing more subtle details and embellishments such as pinstripes or flakes.

 Are you a bride to be planning a winter wedding? Share with us on Twitter and Facebook!

Tags: 2014 Winter Wedding, Roberts Centre, Roberts Centre Wedding, Wedding Trends, Winter Wedding Trends