Wedded bliss is where we'll be at Roberts Centre in 2019! We've got so many stunning celebrations booked for the upcoming year, we thought we'd share what trends are big for Ohio Weddings in 2019. Which should you use on your big day? Which should you pass on? Take a look below.
Hot Ohio Wedding Trends 2019
Hot vs. Not: Glitter and Glam
We're seeing so many couples embrace glitter and glam in a big way in 2019. Solid metallic such as copper and silver are so 2018; today's couples want glittery fabrics draping artfully, sequined accents, and bejeweled centerpieces.
Want to embrace this trend without breaking your budget? Ask your event venue for a sequined table cloth for the head table or stunning table runner, and then scatter matching sequins on your guest tables. This will add on a touch of glam with minimum impact to your wallet.
Bold Colors are Best in 2019
Modern couples are diving in to the deepest of palettes for their weddings. We're seeing bold color schemes bursting with wine, plum, navy and other jewel tones. Pale is so passé; if you truly must have a pastel but still want to stay on trend try incorporating it into your décor as an accent. Check out these winning combinations:
Wine and Soft Pink
Navy and Lavender
Navy and Ice Blue
Eggplant (deep purple) and the softest Sage Green
DIY Won't Fly: Leaving it to the Pros
2019 will see couples focus on together time instead of trying to DIY their entire celebration. Having our professional wedding specialist on your side will let you leave the details to the professionals and free up your "you" time before your big day.
One exception to this rule is the fun trend of floral parties. Businesses are blooming around the area that let bridal parties create their own arrangements and bouquets from materials in the store. It's a great way to save money while adding a personal touch to your wedding with your friends.
Decide on More Desserts!
In 2019 the wedding cake is optional! The cupcake trend is definitely continuing on, but we're also seeing couples bring even more sweets to their celebrations. Couples select something unique such as donuts, cookies, or even candies to personalize their event.
We're also seeing groom's cakes becoming the norm, often with their own "presentation ceremony" during the reception. How fun is it to see your newly minted partner's face when you present a cake crafted solely with them in mind?
Fun Food
Our 2019 couples are really having some fun when picking out food! Traditional buffets and plated meals are on their way out. Modern couples are seeking food stations offering up something delicious for everyone! Personalization is the key here with toppings galore for a variety of themes and bases. Here are some fantastic ideas we've seen so far this year:
Mashed Potato Bar with bacon, cheese, veggie toppings, and more
Taco Bar featuring a wide variety of toppings from spicy to savory
Waffle station with all the fixings like fruit, chocolate, and syrup!
We're also seeing couples try small bite sizes of their favorite foods like mini-dogs, sliders, or tiny salad samples. Don't see what you desire on our catering menus? Just ask! Our talented catering team can craft you up a custom and exciting meal to fit your theme and personality.
Simply Elegant Wedding Fashion
You can thank Ms. Markel for this trend! Our brides are opting for sleek and elegant rather than the elaborate dresses of the past. We're seeing plainer dresses but with a pop of uniqueness like an antique lace sash or colored beadwork.
What trends are we seeing for men? Colorful socks! Our grooms are gifting out socks selected either by wedding color schemes or personality of the recipient. It's a fun trend that we hope continues!
The wedding party has moved from matchy-matchy to coordinating. Here are some examples of this trend:
Budget-conscious brides are selecting a color and letting their 'maids go! We've seen arrays of blue, assorted reds, or even shades of white adorning their crew.
Likewise, grooms are asking their attendants to simply select a nice suit. One of our favorite weddings featured groomsmen in varying shades of grey or charcoal suits.
Some couples are letting their attendants mix it up by intermingling something personalized into their outfit. From fun faux-fur wraps in varying shades to (again!) socks, we're seeing so much more personality being featured!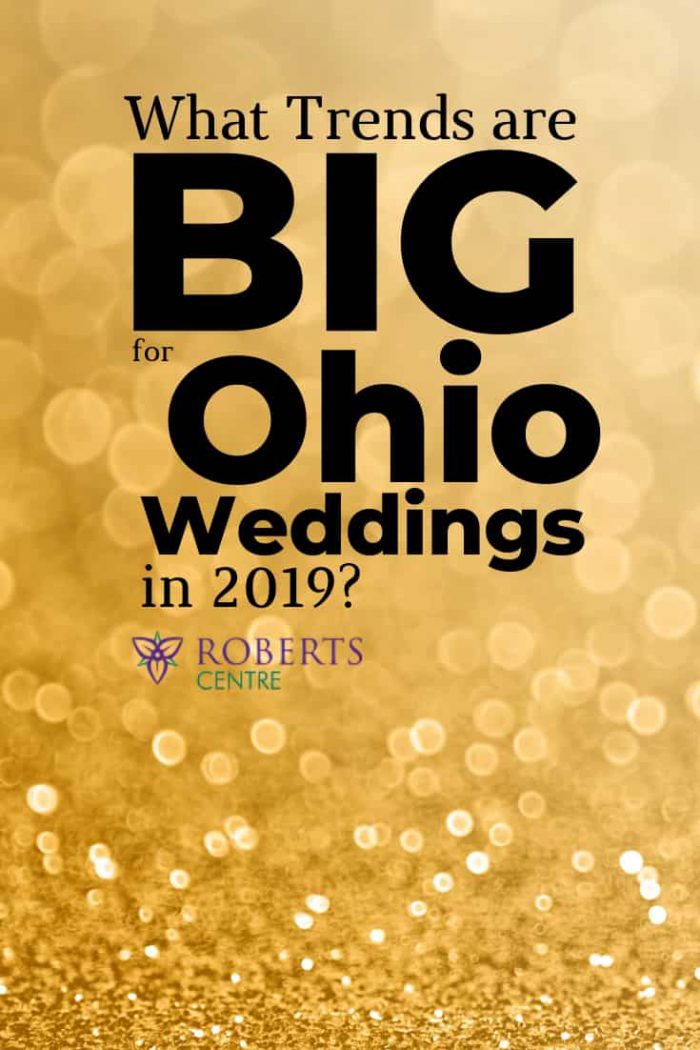 What wedding trends are you seeing? Which do you wish would come back? Which are you glad to be gone? Be sure to tell us in the comments below! If you need a stunning venue for your big day, contact our wedding specialist at 937-283-3272. We can show you how easy it is to incorporate these trends into your celebration while making your wedding uniquely you!

Tags: wedding details, wedding insperation, wedding inspiration, wedding planning, wedding planning tips, wedding tips, weddings