It's okay to be a little blue for a wedding. In fact we've got the true blues as we highlight the trendiest blues for weddings in 2016. In keeping with something old, something new, something borrowed, and something blue.
We start with a very recognizable blue – Tiffany Blue.
Receiving a Tiffany blue box is every girls dream. And many brides are selecting the distinctive color for that special day. The selection of red as an accent to Tiffany blue will be a beautiful mix. Whether it's incorporated in the brides' maid's dresses, floral design or cake frosting, it will be an elegant touch. And how about adding a signature Tiffany blue punch for guests to indulge? It will be all you need!
Traditional blues are navy, royal, and sky blue because they always manage to stay on the trending curve. And while each color elicits different tones, the traditional blues can serve as a dramatic and vibrant backdrop in a variety of ways. This group of blues and others can be blended to compliment other colors like peach or gold. Look for other pops of traditional blues used in seasonal flowers to decorate the venue.
A new trend for turquoise this year is pairing it with a bright color like tangerine. It's a powerful effect that can enhance the attire of the wedding party to décor accents like table centerpieces or favors for a fun twist. Turquoise remains a popular choice while old accents like chocolate brown have faded to allow for trendier splashes like persimmon.
This year a popular color for weddings is likely to be delft blue. The color is usually found in hyacinth blubs. The color is expected to make a splashing impact this year as a coordinating blue for weddings, and will easily blend with other selections in the hue.
Make a statement this wedding season with a slate or dusty blue. The understated elegance of a dress along with a matching tie, vest or cummerbund will be a refreshing take on blue. Or the bride may decide to wear something blue with a pair of slate blue shoes with a hint of bling peaking from under her flowing dress. Imagine lush splashes of the color decorating an indoor venue accented with a rich jewel-tone color silver or gold. It will be a stunning event.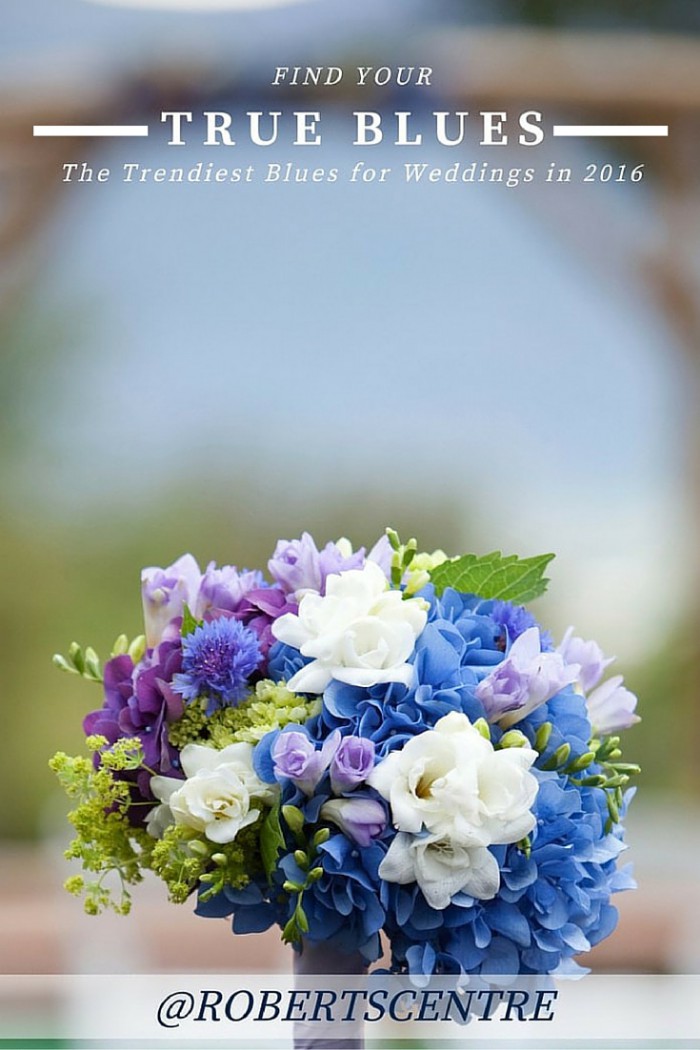 And there's ways to bring the beach to your event with colors like seaside blue. Add festive colors like yellow, gold or even orange and you've got a sunny day at the beach!

Keep on track with the latest trends when it comes to wedding planning. Let our professional event planner help carry out your color scheme and the other details to make your wedding day extraordinary here at the Roberts Centre.

Tags: weddings