Picking the perfect wedding flowers isn't easy. While petals play a big factor in the decision making process, you can also make a sentimental statement with the color of the wedding flowers you choose. Do you want red roses to signify or true love or daisies, which signify new beginnings? We'll teach you how to pick wedding flowers that have both the color and the meaning you want for your special day.
Roses are Red
Roses are tried and true wedding flowers and why shouldn't they be? The classic red rose signifies love, joy and beauty. The rose is a top choice for bouquets, corsages, and table centerpieces.
Looking to change up your rose selection? White roses indicate innocence, ivory roses depict fidelity and dark pink roses depict a couple's gratitude for meeting each other.
Fresh As a Daisy
"The "she loves me, she loves me not" flower of your youth, the daisy is a bright and fun flower that signifies innocence, purity and new beginnings. It's a very popular flower for casual weddings.
Lots of Lilies
Symbolizing humility and devotion, lilies are very popular wedding flowers for summer weddings. They're best used for bouquets and arrangements.
There are so many lily wedding options to choose from that we will break down a few of their meanings for you:
White lily – Modest and pure
Orange lily – Passion
Yellow lily – Lighthearted and cheerful
Lily of the valley – Sweetness and purity of heart
Easter lily – Symbol of the Virgin Mary
Calla lily – The trumpet-shaped lily that means regal is perfect for the men in your bridal party.
Peonies = Happy Marriage
These beautiful flowers known for their fluffy petals symbolize romance. Their full round blooms are known as the flower of riches and honor. Better yet, peonies are also regarded as an omen of good fortune and a happy marriage. How can you go wrong with wedding flowers that have an omen like that?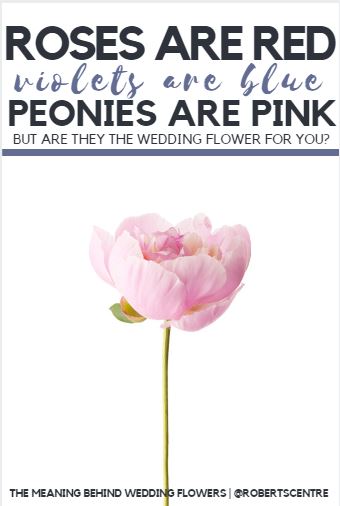 Succulents
The hardiness of these greens lends directly to their wedding meaning. Succulents stand for timeless love. They are a refreshing alternative to flowers that come in a variety of colors ranging from green to soft pink and purple. Guess what's even cooler? They are eco-friendly and can be replanted at home to serve as a constant living reminder of the day you walked down the aisle with your special arrangement.
Hydrangea
These amazing blooms have conflicting meanings so be sure to pair them up with another flower to bring balance to your bouquet. Hydrangeas symbolize truthfulness and display honest emotions. Better yet? Hydrangeas also signify the marriage symbolism traits of perseverance and heartfelt emotion. You can't go wrong there.
Alluring Anemone
The alluring anemone comes from the Greek word "windflower and symbolizes anticipation. The bright red flower also symbolizes protection against ill will.
Go Carnation Crazy
These hearty little bloomers look wonderful in both wedding bouquets and on the people in your wedding, especially the mothers. Why? Carnations represent a mother's love and love in general. So make your mother beam on your special day by explaining the meaning of her corsage.

Here are some other color carnation meanings for you to digest:
Pink carnations – Boldness
Red carnations – Love
White carnations Talent
Ranunculus
Are you a bubbly bride? Then choose ranunculus for your bouquet to let everyone know your flower choice symbolizes charm and a dazzling spirit. Better yet for bride bouquets? The large rounded blooms with crepe-paper-thin petals also symbolize radiant charm and attractiveness.
Baby's Breath
A perfect, simple addition to any bouquet, the meaning of baby's breath reveals sweet innocence and purity of love. This centerpiece filler that's known as the supporter of the star flower in an arrangement also signifies festivity, so let the celebration begin!
Wedding Flowers to Nix
There's a ton of wedding flowers out there that will look gorgeous for your wedding and portray wonderful meaning. There are also a lot of flowers you might want to avoid placing in your bouquet if you're superstitious. Here are some recognized flowers and their questionable meanings you may consider avoiding on your special day:
Christmas Rose: Scandal
Fig: Idleness
Foxglove: Insincerity
Larkspur: Infidelity
Lavender: Distrust
Marigold: Grief
Mulberry: I shall not survive you
Raspberry: Remorse
Red Carnation: Alas for my poor heart
Red Poppy: Consolation
Rhododendron: Danger
Striped Carnation: Refusal
White Poppy: Sleep
Yellow Carnation: Disdain
Yellow Chrysanthemum: Slighted Love
Yellow Rose: Jealousy
At the end of the day, though, if you're set on a striped carnation or one of these other flowers, then your heart knows best.
Plan Your Wedding
If you're inspecting petals, flowers and bouquets, you are well on your way to planning the perfect wedding. Let The Roberts Centre's professional event planning staff help you plan the wedding of your dreams. Our wedding event planning staff can help you with all of the details, making sure everything looks as beautiful as your wedding bouquet and flower arrangements. Contact us today at 937-283-3272.

Tags: Roberts Centre, wedding flowers, wedding planning, wedding tips