Workshops, conferences, seminars, webinars. There are so many different names for meetings these days that you can easily get confused about the type of meeting you actually need. To leverage both the power and attendance of your event, you need to decide on the right format for your meetings. Follow our meeting cheat sheet to discover what kind of meeting works for you and your attendees.
Seminars
Are you seeking to hold an educational event to teach your employees some new lessons or protocols? Then you're having a seminar. Seminars typically focus on just a few educational talking points. Seminars usually consist of a lecturer and a discussion that can include a question and answer session from your audience.
Workshops
Think of workshops as smaller seminars. Workshops consist of a small group of attendees focused on one particular topic to gain education and spur debate under the supervision of a moderator. The moderator of a workshop can also split participants up into small groups, assigning each of them a task. After the designated time is up, each workshop group will present their discussion and their findings to the rest of the participants.
Conferences
Conferences consist of keynote presentation speakers that deliver an address to a large audience. Audiences that attend conferences are usually receiving advice on industry trends or are attending an annual company meeting.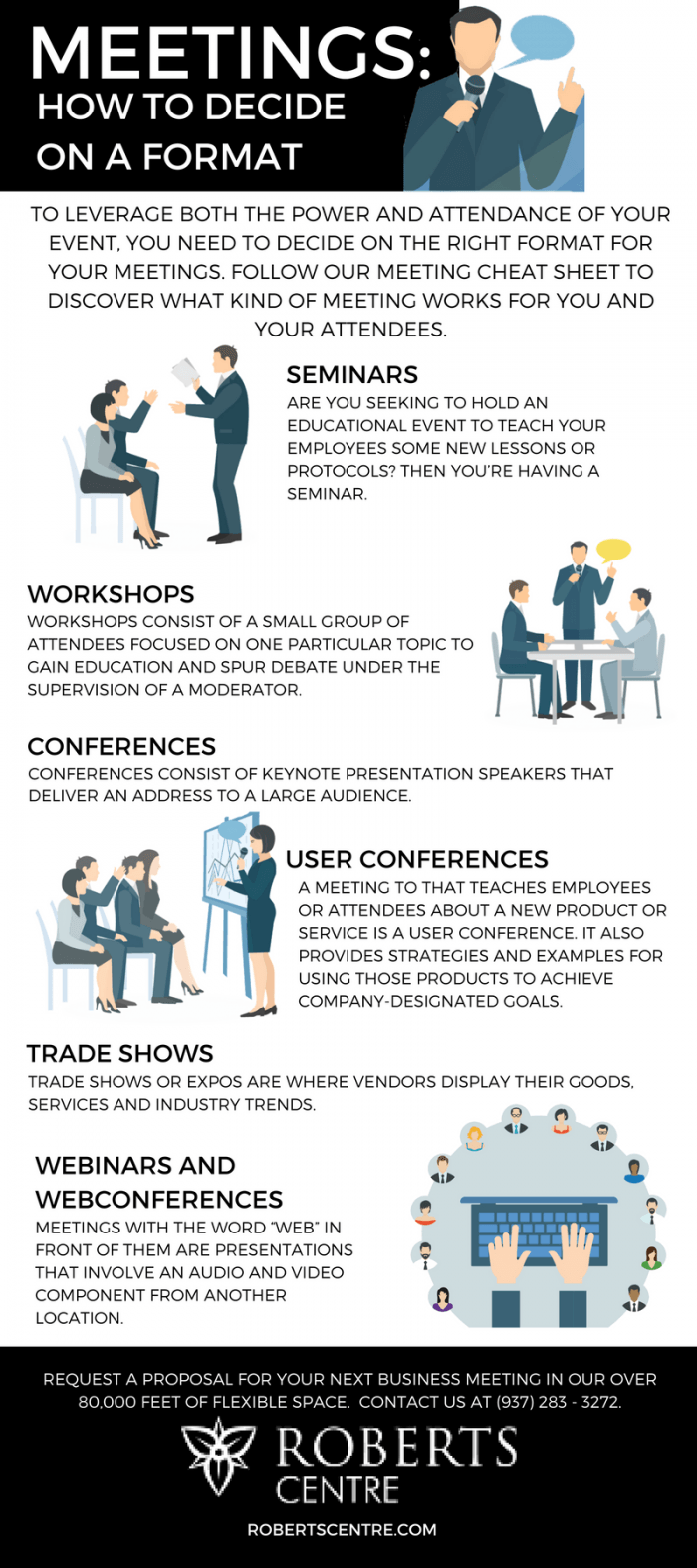 User Conferences
If you need to hold a meeting to teach employees or attendees about a new product or service, a user conference is designed to educate attendees on new products. They also provide strategies and examples for using those products to achieve company-designated goals.
Webinars and Webconferences
Meetings with the word "web" in front of them are presentations that involve an audio and video component from another location. Audio is delivered via phone or Internet and participants can watch the video portion from computer screens or a large projection screen while they learn a lesson from an instructor.
Trade Shows
Trade shows, also known as expos, cater to a wide swath of people that attend a show where vendors display their goods and services in hopes of gaining contacts, potential clients and customer leads. They are also a good spot to gauge where industry trends are headed.
Schedule Your Meetings
It's time to schedule your meeting within the area of Dayton, Cincinnati or Columbus, Ohio at The Roberts Centre. Our event planning staff can help you put together the perfect business meeting venue. We have 80,000 square feet of flexible meeting space that can accommodate every type of meeting, from small business functions to conferences. Request a proposal for your next business meeting.

Our catering options, on-site Holiday Inn and audio/visual offerings can help you prepare for any type of business meeting. Contact us today at (937) 283-3272 to schedule your next business function or special event today!

Tags: business meetings, location, meetings, Roberts Centre