It's the most wonderful time of the year — and Ohio knows it. Situated between the great cities of Dayton, Columbus and Cincinnati and surrounded by numerous, festive towns, we are the best location to experience all Ohio has to offer this holiday season. We have put together an extensive guide filled with Christmas events happening in our area this year. Enjoy this special time of year as you create memories with your family and friends!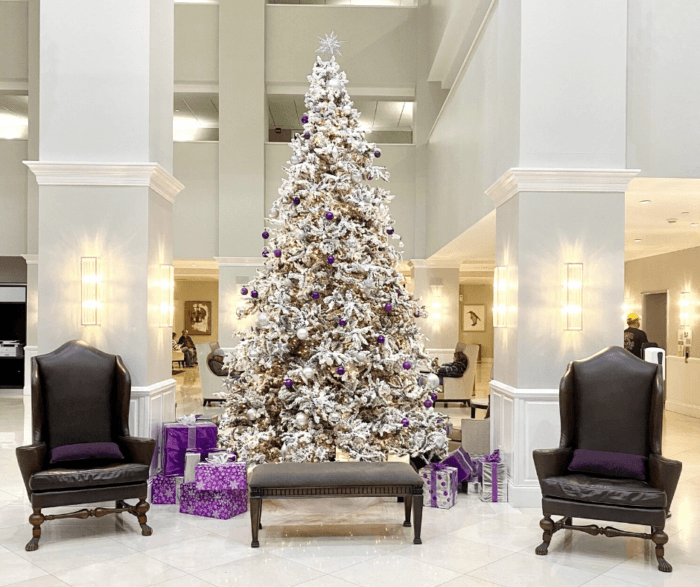 Wilmington, OH Holiday Events
Event: HomeTown HolliDazzle Parade
Date: November 19th
The Holidazzle festival starts at noon with a variety of family friendly activities including visits with Santa and the Grinch, train rides, live music and food vendors. The parade kicks off at 7pm. What a fantastic way to start your holiday season!
Event: Tinsel & Traditions – A Holiday Afternoon Tea
Date: December 4th
Enjoy an afternoon of merrymaking & tea as you explore the holiday exhibits at Rombach Place filled with Christmas cheer! Bite-sized foods, some holiday themed, and a variety of teas will be served over the course of a two hour period. Sample a delightful selection of savory sandwiches, scrumptious scones, splendid sweets, and more! A short educational program and pre-event tours of the Center's museum decorated for Christmas will be offered during the tea.
Event: Christmas Program – An island of MISFIT People
Date: December 18th
A beautiful story put on by youth in our community about hope, peace, joy and restoration. Stay afterwards for cookies with Santa & photos with Rudolph!
Columbus, OH Holiday Events
Event: Wildlights at the Zoo 
Date: November 18th – January 1st
Experience the Columbus Zoo like never before! The Holiday season comes alive with millions of LED lights, animated musical light shows, Santa, reindeer and other holiday festivities that can only be found at the Columbus Zoo and Aquarium.
Event: The Nutcracker 
Date: December 8th – 24th 
BalletMet's production of The Nutcracker is returning to the Ohio Theatre for the 2022 holiday season – and if you hurry, there's still time to score amazing tickets for any performance!  The Nutcracker Columbus production is an absolute delight for theater fans of all ages, who love it for its whimsy, its charm, and its palpable Christmas magic.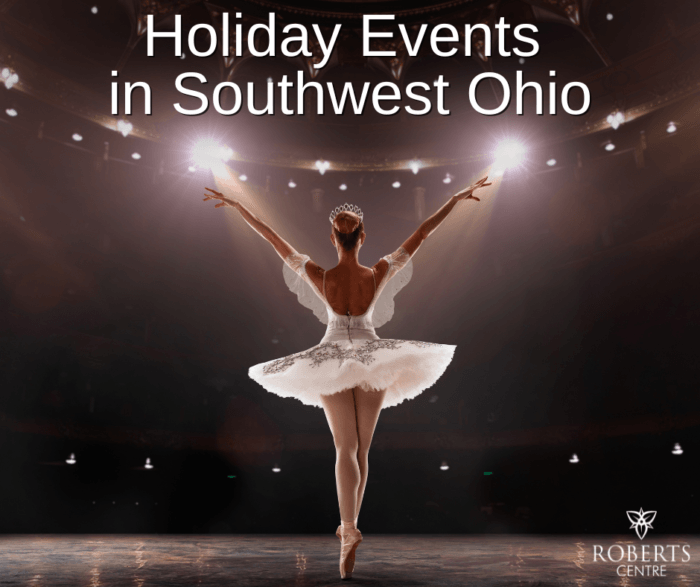 Cincinnati, OH Holiday Events 
Event: Light Up The Square 
Date: November 25th 
Kick off the holiday season with Cincinnati's annual tree lighting celebration! Festivities begin at 6pm. The evening will feature live music, a special appearance by Santa Claus and a dazzling fireworks display. 
Event: Cincinnati Ballet's The Nutcracker
Date: December 15 – 24
Dressing up and seeing the Nutcracker is like living out a childhood Christmas fantasy, and Cincinnati offers this opportunity every year thanks to their incredibly gifted ballet. Due to the venue's recent renovation, Music Hall, the performance is guaranteed to be more unforgettable than ever. 
Event: Fountain Square Ice Rink 
Date: November 5th – February 20th
Fountain Square will be the only rink in the Tri-State to offer Bumper Cars on Ice this fall and winter. They will operate alongside ice skating seven days a week. Reservations can be made via the link above. They will have a limited number of "walk up" time slots available as well.
Event: Celestial Holiday 
Date: November 5th – January 7th 
Krohn Conservatory will be a sight to behold this holiday season as it is transformed into a glowing winter wonderland. A great place to visit with the whole family.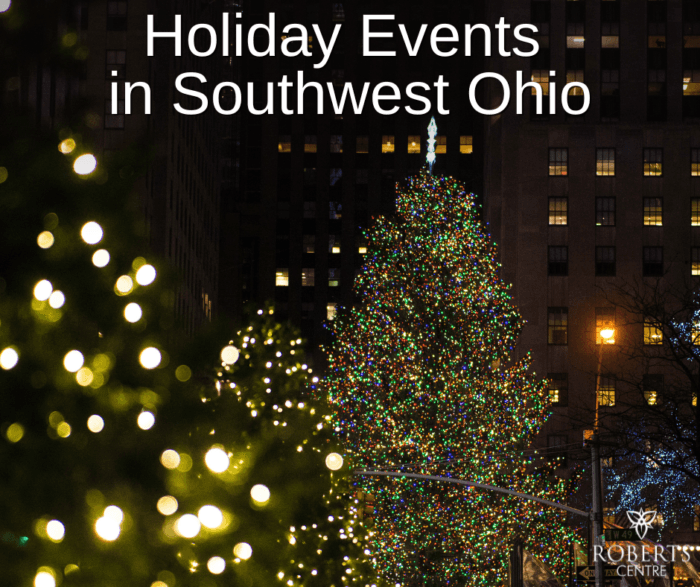 Dayton, OH Holiday Events
Event: Grand Illumination 
Date: November 25th 
Watch the holidays light up during Dayton's traditional tree lighting on November 25th. At 7:55 p.m., they'll throw on the switch and approximately 50,000 gold lights will brighten the two-story-tall tree on Courthouse Square in honor of the festival's 50th anniversary!
Event: A Carillon Christmas 
Date: November 22nd – December 30th 
Carillon Historical Park in Dayton features a winter wonderland of lights, train rides, slides and other attractions during A Carillon Christmas. With more than 15 miles of dazzling lights, Christmas themed activities and caroling, it's one of the best places in Ohio to spend the holiday season. 
Event: A Very Electric Christmas
Date: December 18th
Follow the story of a young bird named Max and his family as they embark on their journey south for the winter. When Max gets blown off course and ends up at the North Pole, his adventure begins! Dancing toy soldiers, caroling works, and performing poinsettias light up the stage this Christmas season. Audiences of all ages will treasure this magical and captivating tale of family, friendship, and hope.
Event: Craft Show and Music Festival 
Date: December 3rd
Head to the Easton Middle & High School on December 3rd from 9am – 6pm for their Holiday craft show and music festival. There will be over 60 craft vendors, numerous musical performances, silent auctions, tree tag pull, concessions, bake sale and more. This is a great opportunity to support local businesses as you check off your Holiday shopping lists this year.
Events: Breakfast with Santa 
Date: December 18th
Don't miss Santa's annual visit to the Market for a tasty buffet breakfast prepared by some of the 2nd Street Market vendors. Afterwards, listen to Santa read a special holiday story then take a few minutes to take a photo and tell him your holiday wish! All ages are welcome. *Pre-registration is required to attend this event. Tickets will not be sold at the door. Event tickets are $10 per person. Two different breakfast times will be available.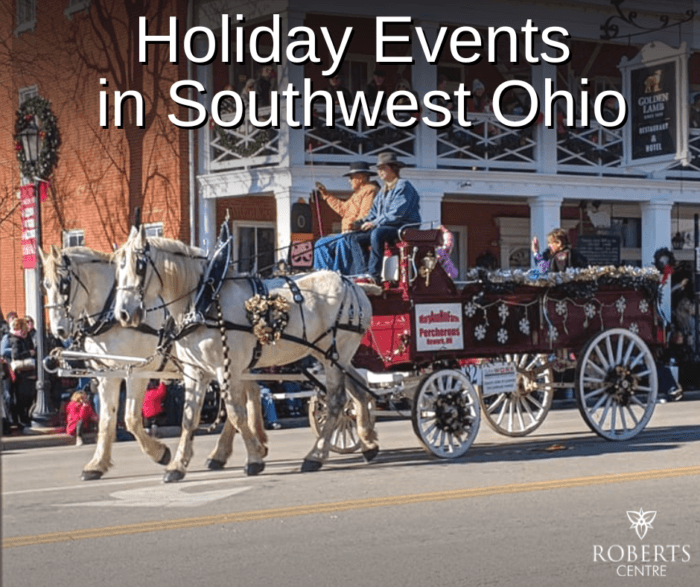 Lebanon, OH Holiday Events
Event: Lebanon Horse Drawn Carriage Parade and Festival
Date: December 3rd
The Lebanon Area Chamber of Commerce will host the Annual Lebanon Horse Drawn Carriage Parade & Festival in historic downtown Lebanon December 3rd, 2022. The festival runs from 10:00 a.m. until 8:00 p.m. The parades are at 1:00 p.m. and 7:00 p.m.
Mason, Ohio Holiday Events
Event: Winterfest at Kings Island 
Date: November 25 – December 31st
This year, Kings Island is proud to present WinterFest. WinterFest is praised for its breathtaking lighting displays and enjoyable ice skating on the fountain.
Event: Yuletide Village: Season of Lights 
Date: November 25th – December 17th 
Renaissance Park in Warren County Ohio offers a warm glow Fridays & Saturdays from November 25 to December 17. The village beckons you to take in light shows, enjoy hot food & drinks while you wander through our Yuletide Market.