You've chosen the most romantic day of the year, Valentine's Day for your nuptial celebration.  Now you're making your wedding more chic than shabby, and searching for unique aisle tossers for your Valentine's Day wedding.
In a world full of red and pink petals, you're searching for something a little more "you."  On the sliding scale of normal to offbeat, start on the normal side by considering a bright mix of petals for your flower girls to distribute down the aisle.  Whether you stick to your chosen color palette, or branch out to include the full rainbow, guests will give you props for popping more than the traditional colors down the white carpet.  Budget brides should consider silk alternatives to fresh flowers, or go with high quality confetti.  Pro Tip:  find a friend with a paper stencil machine like a Cricut and DIY.
Want to go outside the flower box?  Make your own "Love Notes" to drop down the aisle.  These can be done in a few different ways, depending on the time and effort you wish to devote to this wedding craft.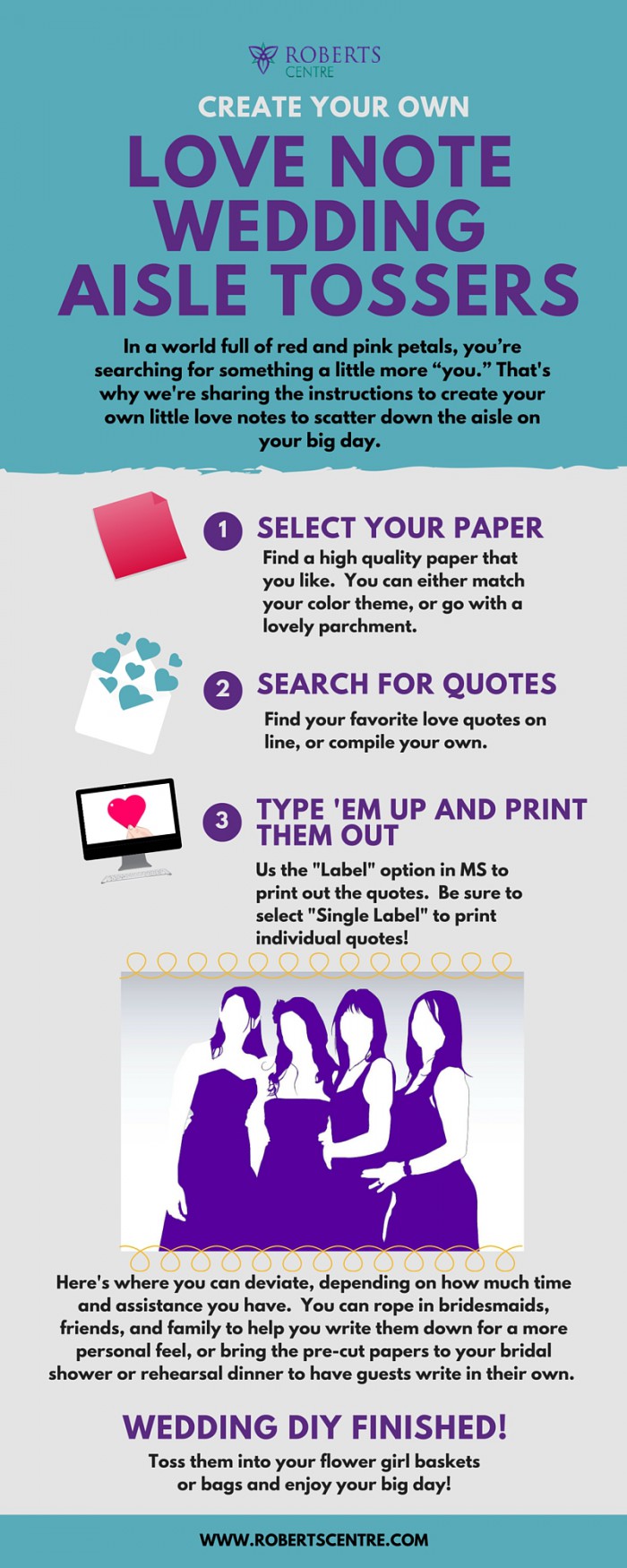 First, find a high quality paper that you like.  You can either match your color theme or go with a lovely parchment.  Consider the texture here; card stock will fall in place whereas a thinner paper may curl in a lovely fashion.

Next, get your love quotes on those lovelies.  A quick search engine query will net you hundreds of quotes to use, or gather your own.  The easiest method is load your paper into your printer (make sure you change your print settings if using anything heavier than copy paper or a printable vellum), and go to the "Mailings" setting in MS Word.  Click on "Labels," then be sure to click "Single label" under the "Print" settings box.  You'll see boxes for "Row" and "Column" that let you jump down the sheet. Just copy and paste your text in and you're good to go!  Pro Tip:  If you don't like any pre-installed fonts on your computer, many websites such as dafont.com offer free or low cost specialty fonts ready to download.  Just remember you'll need to exit out of your word program completely after installing in order for the font to load in your program.

Want to make them more personal?  Schedule a pre-wedding crafting party and rope in your bridesmaids to help write the quotes down.  Another fun twist is take your pre-cut strips and a few high quality pens to your bridal shower or rehearsal dinner so your loved ones can scribe their own favorite love musings.

The tossers are all you, but our professional event planning staff at Roberts Centre can help make the rest of your wedding and wedding reception planning a celebration in itself!  Contact our staff at 937-283-3275 to get started.

Tags: valentine's day, weddings