So many business deals are made with a handshake over a good meal. It's critical that you plan the proper business dinner to make sure you can concentrate on the conversations and not the dinner itself. We've got the 9 tips you need to plan a proper business dinner.
Who's Coming to Dinner?
Whether you are inviting clients to dinner to build a lasting relationship or meeting some co-workers for supper to hash out a plan, the first step is deciding who's coming to dinner.
If you are meeting some potential clients for the first time, check out your dinner companions through their LinkedIn profile to get a glimpse into their career and potential hobbies. This allows you to come up with some good conversations that will set the tone for the business dinner.
Keep the Date
Make sure the business dinner date works for everyone ahead of time. If you have to postpone or reschedule the dinner, you'll come across as disorganized and you run the risk of wasting the time of potential clients that will think twice before agreeing to reschedule.
Menu Restrictions
We now live in an age where diet restrictions are as common as the conversation. Find out if any of your business dinner invites have diet restrictions before the dinner. Restaurants should be able to accommodate vegetarian-only and gluten-free dishes. Making sure the restaurant meets the needs of your attendees will please your guests and start the dinner off on the right foot.
Get There First
If you planned the business dinner, it's important that you're the first to arrive. Make sure the table meets your needs and welcome guests to your table. You don't want to be seated near the kitchen or the restrooms so ask for a better table if you don't like the location.
Also alert the wait staff to the names of the participants you are expecting. Business meeting guests should never walk into a restaurant wondering if you have arrived and where they should sit. If potential clients know you're prepared for dinner, they are more willing to trust your business capabilities as well.
Utilize Small Talk
Everyone who sits down at the business dinner knows they were invited to talk business. Talking business during the entire meal can be a turn off though. Use small talk to get to know everyone a little better. Small talk should be used before the entrée is served and at the end of the evening.
Pay for the Meal Discreetly
Even though business dinner guests aren't expected to pay for any portion of the meal, it still makes it awkward when your guests see the check arrive.
Allow your server to run your credit card ahead of time and designate a tip percentage for the meal. If you're not comfortable pre-paying, tell your server you will stay behind and pay for the meal after your guests have departed.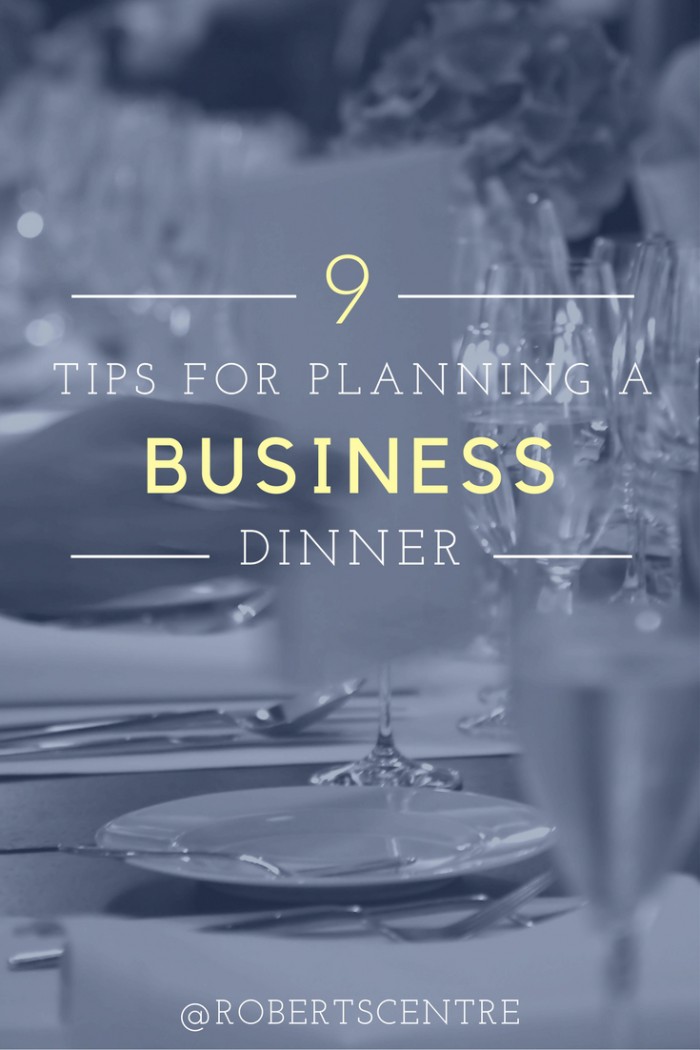 Match Meals with Guests
If your guests decline an appetizer and choose an entrée, you should do the same. If they order alcoholic drinks, don't have more drinks than they do. It's okay to urge them to try a dessert or a night cap but if they decline, you should skip dessert too. This makes everyone feel more comfortable and able to focus on the business side of the dinner.
Ordering Tip: Make suggestions for entrees so your guests feel comfortable ordering what they want and aren't worried about menu prices.
Mind Your Manners
If you're hosting a business dinner with prospective clients, the way you treat the wait staff and those around you is very important. A business dinner is not the time to get upset if a dish or the wait service isn't up to par. If clients see you get upset at the dinner or talk down to the wait staff, they think you act that way at the office too.
Make the Business Dinner Count
Business dinners should lead to a future connection. If you tell the rest of the dinner party you plan to connect them with some third party clients or that you will be in touch with more information, make sure you follow through. This will keep clients much more willing to RSVP to future business dinner invites.

Do you know where you're having your next business meeting? Conveniently located in the middle of Dayton, Cincinnati and Columbus, The Roberts Centre has an in-house restaurant and offers catering options to put together a private business dinner utilizing some of the facility's 80,000 square feet of flexible meeting space. Request a proposal for your next business meeting.

We also have an on-site Holiday Inn to accommodate your meeting needs. Contact us today at (937) 283-3272 to schedule your business dinner and other special events today!

Tags: business dinner, business meeting, location, Roberts Centre