We don't want to be gone with glamour, but the "Old Hollywood" prom theme is just ho-hum. What should your committee pick to make your prom theme a modern celebration? We've got 10 perfect prom themes that you can pull off without a big budget.
Carnival Celebration
With swags of red and white fabric sweeping across the ceiling, a carnival theme is the perfect pick for your prom. Think an evening under the "big top" and make it spectacular! You'll want to keep colors robust and bright, sticking to red and gold as your main palette. Make sure you incorporate the midway into your celebration; games like ring toss and a fortune teller are a must!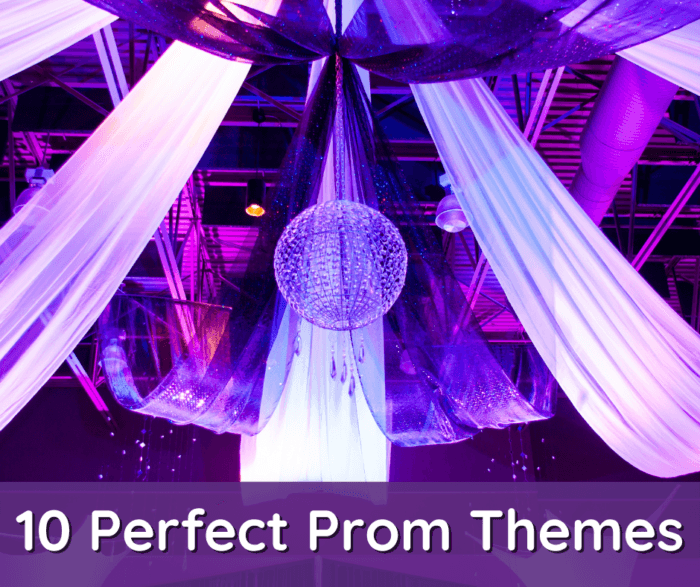 Charleston: An Evening in the 1920's
It may have been an eternity (2013!) since DiCaprio starred in The Great Gatsby kicking off a renewed interest in the roaring 20's, but this trend is still going strong. Gold and black should be your go-to colors, and keep the glitter and glam on high for the evening by adding fringe and art deco touches on EVERYTHING.
Fire and Ice
Icy blue or fiery red—which side will you chose? Make your guests decide at this fun spin on a celebration. Cut the hall down the middle and play up the color scheme on each side. Use inexpensive up-lighting to bring your inferno to life on the red side while balloons and light fabric can cool things down on the blue.
Moulin Rouge
An evening in Paris theme should stay in the 90's where it was hatched. Your prom participants crave a more modern take on this romantic theme. Bring out the excitement of the Moulin Rouge! Make sure you include the classic windmill in your décor. Jewel tones are perfect!
Starry Night
Pay homage to the arts with this theme based on the stunning painting by Van Gogh. Your palette comes from the painting, of course, so a sky of blues and gold are your goal. For an interactive evening, you can set up a photo booth where a volunteer applies a painted filter to the photos before printing.
Lighting will be big to make this theme work. Make good use of small "twinkle lights" along the ceiling and walls.
Under the Sea
Upside down balloons draped in flow-y fringe can give this theme the perfect look. You'll want to stick to blues, greens, and the occasional pop of color for the décor. Keep it fun, not fishy, by adding aquatic items such as fountains and moving lights resembling waves.
Medieval Masquerade
Deep, rich colors will make a masquerade prom marvelous. Pin a plain mask to the prom tickets when sold and host a contest for the best decorated of the evening.
Enchanted Forest
Play up this fun theme with drapes of vegetation and fairy lights. Think floral fun for your color palette; greens and browns should be your staple. Hang paper or artificial flowers from the ceiling using small or invisible thread for an inexpensive yet magical touch to your décor.
Venice Jubilee
Give your prom an international feel by bringing Italy to your guests for the evening. Jewel tones, black and gold should be the main colors. Play up the water channels theme by lining the entry way with blue runners. Bonus touch: Find willing and talented volunteers to act as "living statues" for the evening.
A Global Affair
Feature multiple sections of the globe for your perfect prom! Set up regional stations featuring food, flags, and cityscapes for each. As a fun and interactive portion of the evening, find community volunteers that will host mini dance lessons from around the world.

The most important part of planning a prom is finding the perfect venue, and Roberts Centre is here to help! Our experienced event planners can make these themes and more happen for you and your guests while respecting your budget. Contact us today at 937-283-3272 to find out how.

Tags: prom, special events