We understand you. After a long day of conferences, conventions, special events, shopping at Tanger Outlets in Jeffersonville, or driving from the three largest cities in Ohio, Dayton, Columbus, or Cincinnati, you're ready to relax in one of our spacious and updated hotel suites and rooms. That's why we've launched our newest offering, UN-WINE.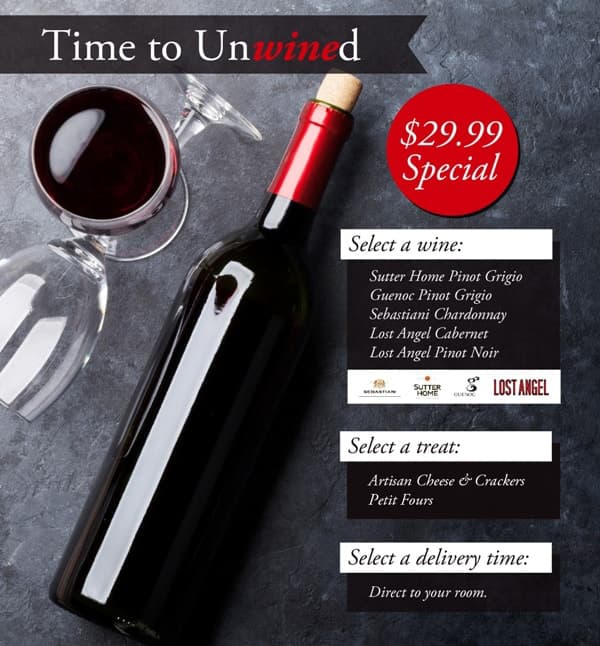 What is Un-Wine at Roberts Centre?
The UN-WINE offering includes your choice of premium wine and a treat, delivered directly to your guest room or suite. Simply dial room service from your in-room phone and select your UN-WINE delight for the night. Guests may choose from a wide range of premium wines and a savory or sweet end to their evening; selections include a wide arrange of artisan cheeses and crackers or petit fours.
"We understand when our guests stay with us, the best possible experience we can provide them is an evening with every comfort considered," explained Michael Leitz, the General Manager Roberts Centre Hotel and Convention Center. "That's why we're excited to offer up this experience to enhance their stay."
How much is Un-Wine at Roberts Centre?
This enhancement to your evening is available year-round for the delightful price of $29.99 and can be charged to your room. You don't have to do a thing except decide which combination is perfect for your evening.
Where can I find more information about Un-Wine?
Are you curious what other packages and add-on's we offer our guests? Please check the Getaway Packages page on our site for everything we offer throughout the year. "You'll love the ways our staff is prepared to make your stay the very best," added Leitz. "Our purpose is to give you the very best experience during your stay in Wilmington, Ohio, whether you're attending an event with us or just passing through."

Tags: hotel, hotel amenities, hotel services, Roberts Centre, wine