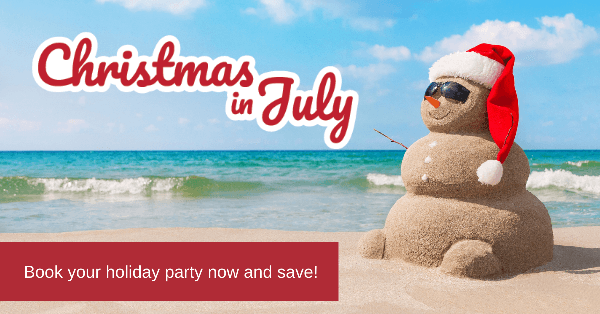 If you're thinking of throwing a holiday party for your employees, there's no time like the present to start planning. Our Christmas in July celebration makes it easy! Though it may have been a while since your last gathering, our Sales and Catering Manager, MaryRuth Grandinette, is ready to be your partner in creating an event that is worth the wait! 
MaryRuth shared, "I am very excited for the opportunity to provide a safe, fun, and memorable experience to reward your team for the hard work they have provided throughout the year."
Christmas in July – Our Holiday Party Special Gift To You 
To celebrate, we're offering discounts on all holiday parties booked in July for the 2021 Calendar Year. Bring your office together in stress-free style and safe surroundings! Book your party now and save 10-20% on food and non-alcoholic beverages while receiving discounted room rental! 
Check out the deets here!
You've Got Options
When planning your corporate party this holiday season, safety might be a bigger priority than in the past. Any size group will feel comfortable with our versatile spaces and wide variety of meeting areas to choose from. With added features like sanitizing stations, we can put your guests at ease and allow you to focus on what matters most, rewarding your employees for a job well done. 
We've upgraded our catering services to allow for more flexibility and choices in how your guests are served. Along with our traditional buffet style offerings, we can further accommodate needs through providing: 
Spacious, flexible seating.

We can make your gathering feel as grand or intimate as you'd like through creative and adaptable spaces and seating options.

 

Passed Hors D'Oeuvres.

Our traditional buffet presentation is still available, but we can personalize your serving preferences further by bringing the hors d'oeuvres to you!

Plated Dinner Service.

With our plated meal service your guests will feel pampered and doted on rather than worried about standing and waiting in buffet lines. 

Nearly endless possibilities.

Our Sales and Catering Manager, MaryRuth, is delighted to help you design a custom holiday party that not only meets your needs, but will be the highlight of office talk for years to come. 
Customize Your Menu
One thing that will never change about a perfectly planned party is delicious food. Our culinary team has developed diverse menu options that will exceed your expectations. We will help you present them in creative ways that enhance the atmosphere of your gathering. 
If you're ready to discover the mouthwatering choices that await you and your colleagues, you can explore our menus on our website or contact us to discuss customized options to meet your specific needs.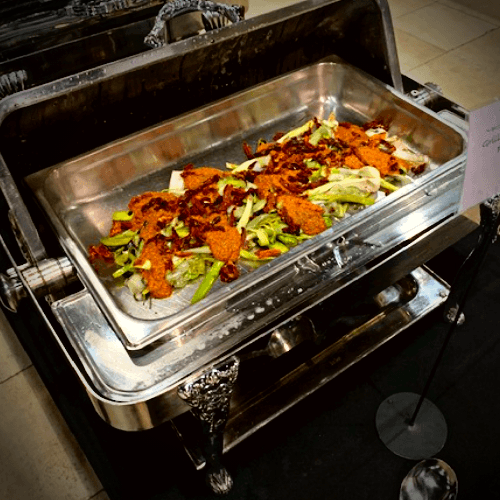 Book Today
Whether you're resuming a beloved office tradition, starting a new one, or simply hosting a one-time celebration, we will help make your office holidays merry and bright this year! Be of good cheer for Christmas will come two times this year.  Join Santa's nice list by filling out our contact form or give us a jingle at 800.645.7036 and select option 5 to secure your reservation today!