Don't be a tired turkey this Thanksgiving. Instead of stuffing your dishwasher with pot-atoes and pans, lettuce do all the work.
Pe-can do all the cooking for you with a done-for-you Thanksgiving Dinner!
Spend quality time with your family instead of cooking and cleaning. We have Bean waiting for you! 
*Dad jokes not included.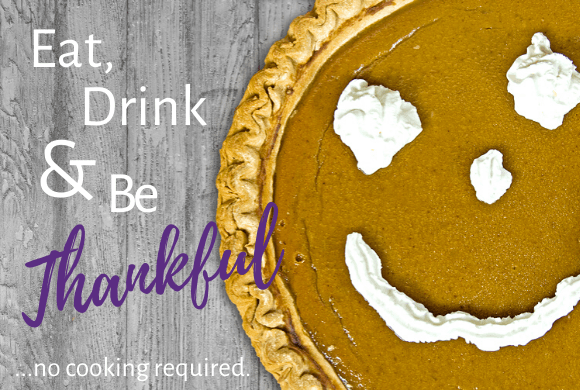 2021 DONE-FOR-YOU THANKSGIVING DINNER WITH TOUCH-LESS PICKUP MENU
Mains
Free-range Turkey Breast
Honey Glazed Ham
Sides
House-made Garlic and Herb Mashed Red Skin Potatoes
3 Cheese Mac & Cheese
Classic Cornbread Stuffing
       Green Bean Casserole   
     House Garden Salad
Artisan Rolls with Whipped Butter
Sauces
House-made Turkey Gravy
Orange Cranberry Sauce
Ranch and Italian Dressings
Desserts
10" Pumpkin Pie
10" Pecan Pie
View and Download the Printable Menu
Place your order using the form below.
Available to order in increments of 6 or 10 people.
~6 people $89.99 + tax
~10 people $149.99 +tax
*All orders due no later than 12 noon Saturday, November 20th. Pickup will be on Thursday, November 25th. Please specify preferred pick up time between 11 A.M. and 3 P.M.
Touchless drive-through pick up available between 11 A.M. and 3 P.M. on Thanksgiving at the rear of Roberts Centre.
123 Gano Rd. Wilmington, Ohio 45177