You're invited to The Roberts Centre 2019 Wilmington, Ohio Thanksgiving Event located in our Grand Convention Center Ballroom on Thanksgiving Day! Skip the cooking and the cleanup and join us for this special event right in your backyard.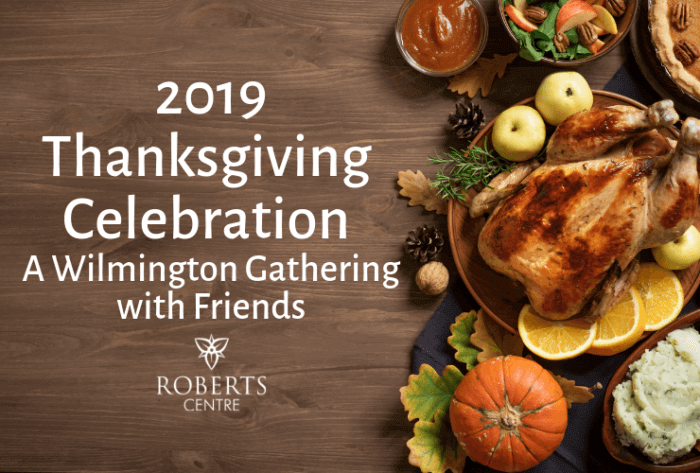 2019 Wilmington, Ohio Thanksgiving Event with Friends Menu
Salads:
Mixed Green Salad, Tomato, Carrot, Cucumber,
Balsamic and Ranch Dressing
Romaine Lettuce, Crouton, Parmesan, Caesar Dressing
Roasted 3 Color Cauliflower, Raisin, Olive, Cumin-Lime Vinaigrette
Burnt Carrot, Goat Cheese, Mint, Lemon Vinaigrette
Fingerling Potato, Crispy Pancetta, Chives, Dried Tomato
Raw Bar and Full Bar Service:
Poached shrimp: Cocktail, Marie Rose, Citrus
The beverage bar will be open for additional priced drinks along with a HANDCRAFTED MIMOSA STATION!!
Thanksgiving Entrees:
Salmon, Roasted Fennel, Lentils, and Beurre Blanc
Chicken Sausage, Herb Spaetzle, Caramelized Apples
Sweet Corn and Polenta Ravioli, Beef Short Rib, Caramelized Onion Demiglace
Vegetarian Grain Stuffed Red Pepper, Bell Pepper Coulis
Sides:
Mashed Yukon gold potatoes with fresh garlic and fresh herbs
Roasted sweet potatoes with brandy caramel and brulee marshmallows
Three-cheese mac & cheese
Sage and sweet onion dressing
Pan-roasted fall vegetables with fresh thyme,
Grilled leeks and tomatoes in a pine nut romesco sauce
Salt-roasted beets with goat cheese spiced pumpkin seeds
Thanksgiving Carving Station:
Ohio raised free-range turkey
Roasted beef strip loin
Hardwood smoked ham
Bread and rolls with "deep breath" truffle honey, smoked tomato, rosemary, or apple butter
Desserts:
Cakes
Pies
Cookies
Bars
Seasonal desserts
The cost for the event is as follows: Adults $20.99+ tax per person, Kids (4-10) $10.99+ tax per person.
15% gratuity will be added to all checks.
Children under 3, Police, Firefighters, and First Responders eat FREE!
Veterans who attend our event with a veteran status ID will receive a 30% discount!
Michael Leitz, General Manager at the Roberts Centre decided that a Thanksgiving Day event would be great for the Wilmington community.
I have been so impressed with the Operations team here, our partners at R+L Carriers, and the Wilmington, Ohio residents that I wanted to do something that involved everyone and gave back to the community! What better way than to have an event where anyone can bring their family, enjoy a great Thanksgiving Buffet and leave the cooking and clean up to us?
Michael added,
It was very important for me to include first responders eat free at this event to celebrate the heroism and hard work and dedication of our Active Military, Police, Fire and Medical professionals in our community whom so often are not recognized in today's crazy political environment! Bring the family, and leave the cooking and cleanup to us, Spend more quality time this thanksgiving with the ones you love!
Read and print our entire Thanksgiving 2019 menu here
Stay at the Roberts Centre Holiday Inn
If you've had too much turkey, plan to stay the night and rest easy in our newly renovated Holiday Inn Hotel with no cleanup. Make your Holiday Inn reservation here.
Thanksgiving Dinner Reservations
There will be 4 seating times:
Noon
1:30 PM
3:00 PM
5:00 PM
Reserve a spot for you and your family by calling 937.283.3277 or fill out the form. Payment can be made at the door when you arrive!
You can also come the day of, but your spot at the table might be taken, so reserve your seats today!